Maybelline Fit me Matte + Poreless Foundation in 330 Toffee Caramel: Review, Swatches
Hiiiiii 🙂
When Fit me range got launched In India I squealed, hearing the news my bestie who is in abroad squealed and other I am sure she waiting to pounce on the collection. See thats how much importance the FIT ME collection has. If you have read my experience with concealer ( Review here) you guys know how much I love it, today it's the turn of Maybelline Fit me Matte + Poreless Foundation .
Price: Rs 525/- for 30ml
Claims: This foundation gives you a natural and flawless complexion from every angle for skin that shows its fabulous best!
Here's why you'll love it:
– Its 25% anti-shine perlite + micro blurring powders, make visible pores and shine disappear, getting you the perfect selfie-ready look.
– It has a poreless finish to cover up your blemishes.
– Matte finish foundation erases pores.
– Shade range covers a wide spectrum of skin shades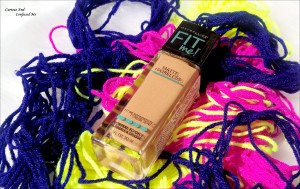 My experience with Maybelline Fit me Matte + Poreless Foundation:
Packaging: It comes in glass bottle with a black cap with FIT Me written on the cap. It would have been very convenient if it came with the pump. Tilting the bottle getting the product out becomes tedious job at time, not to mention leading to product wastage. But looking at the price I am not complaining.
Texture: Maybelline Fit me Matte + Poreless Foundation has a very light texture, not too thick, not too runny and it blends like dream. The light weight texture feels like nothing on the face.
Shade : My reason for picking up the darkest shade without much thought: 1. Yellow toned foundation 2. I can make it lighter by adding something, its difficult to brew a darker shade =)). As I mentioned 330 Toffee Caramel has yellow tones to it and it works fine for my Dusky tone, it's a tad bit darker but still works. I mix this with the other BB cream I have and it's been wonderful. However deeper skin tones again have no hope 🙁
Performance : All that claims of Matte? Poreless? Foundation for Normal to oily skin? 25% anti-shine perlite( Say What!!! In short no shine) Now let's break break break break it down. ( What up superwoman reference. )
As I mentioned earlier it feels like there is nothing on the face, once I have blended the foundation. It is medium to buildable coverage foundation, which I love. It can hide darkspots, blemishes. The foundation does give me a matte finish. It does give a smooth finish thus giving the Poreless effect. Now I am in a coastal place where the humidity is something constantly present. I managed to get a matte face for about 4+ hours, and then the face turned dewy but not oily. All in all the foundation stays on my face about 6-7 hours. All these minus primer and powder on top. The performance prolongs and is even better with primer/powder. So it is perfect for Normal to oily/combination skin. The foundation has not broken me out in the last three week of use.
Last week while plucking my eyebrows I had plucked some skin (Ouch I know! ) so that area was a little dry. This foundation did seem to get stuck on it. So for dry skinned girls well moisturized face is must. But then again they have specially mentioned that Foundation is suitable for Normal to Oily skin.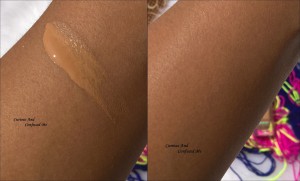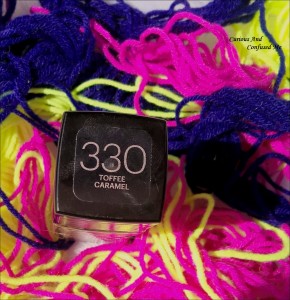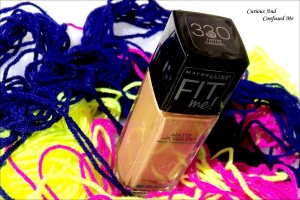 Pros:
Affordable, very light texture, Medium to full coverage, blends well, stays for 6+ hours, perfect for oily skin, gives a natural look,
Cons:
No pump packaging, dry skin girls needs to moiturizer thouroughly
Last words:
It's quite hard to find a drugstore foundation which is affordable, giving that natural no makeup look, which keeps face matte for long time, which suits oily skin and
apt for daily use. Maybelline Fit me Matte + Poreless Foundation gives me that and I will be repurchasing this 100%. There are 6 shades available and I believe the
second darkest shade has pink undertone. So if you get a match I say go for it. I really love using this and one of the wonderful products I have used till now. It
truly Fits me. Recommended.
Have you tried this? Are you excited for this?
Live life to the fullest
XOXO
SB
---
---