Makeup Revolution I Heart Makeup I Am Powerful eyeshadow palette : Review, swatches
Hi All 🙂
When I posted my haul post , after Sugar Kajal, this palette made buzz. Not surprised. When I was searching for I Heart Makeup Chocolate pallets which seems to be liked by everyone, I came across these and got distracted and I ordered these. Women!!! lol . After neutral/brown shades , I am okay with Purple and Olive shades on the eye. So instead of opting for another brown toned pallet I choose this purple toned palette named Makeup Revolution I Heart Makeup I Am Powerful.
Price: £2.99( I got it for 450 INR from Amazon.in) .
My experience with Makeup Revolution I Heart Makeup I Am Powerful :
Packaging: Adorable. Black plastic box with the " I Am Powerful" written on it and with the lipstick on the right side . The lipstick cannot be pulled unless and until you open the palette which has a push button. Very travel friendly. I think this makes the great gift to our girl besties. The palette has a Mirror and a useless brush as well.
Shades: The palette has a mix of two matte shades and 4 shimmery shades. They all belong to the Lilac, Purple family. The mattes include matte cream highlighter shade and one taupe shade. That taupe shade can be used to blend the harsh edges of shimmery shadows in the eye crease area or all over lids for normal subtle looks. This has the shades that will be helpful in the day look and party look. Also, it's quite easy to take day to night makeup
look thingy with this palette.
Performance:
All the eye shadows are buttery smooth, pigmented and super blendable. None of the shades are dusty or chalky. You will be able to pick them up using the brush and the pan color comes on the lids. There is minimum to almost no fallouts. Often it happens that the darkest shade in the pan has the maximum fallout and lack pigmentation and all that sad stuff, but not in this palette. The quality is same across all shades and all of them have a very good color payoff.
The eye shadows stay on lids for long time around 6-7 hours. Only after about 6.5+ hours I noticed a slight creasing and all that without primer. With primer these stayed like 8+ hours.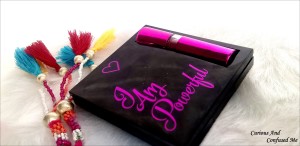 Lipstick is: It's a berry Pink shade (I am dancing mentally) I love berry shades, so I loved this. But this is not a matte lipstick rather creamy lipstick with pearly shine. It's more on the Purple/plum side with the hint of Pink on the lips. It's creamy and moisturizing. Glides smoothly and stays for 3-4 hours and leaves a pink tint behind.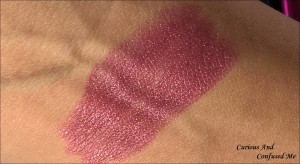 All in all I am impressed. When I came across this palette I ordered this in a whim, due to my good experience with the MUR eye shadows. And faith restored!! That would be the wrong word. Faith is intact in the brand. There are 4 variant in this range/palette. These ares some Affordable good quality palette. This should fare well with everyone : Beginners, pros, makeup addicts, makeup hoarders everyone!! Do check these out.
What do you think of it? Do you like purple eye shadows?
Live Life to the fullest
XOXO
SB
Follow me on bloglovin and i'll follow back 🙂
---
---