Maybelline New York Hyper Matte Liquid Liner: Review
Hi All 🙂
Finally a Matte Liquid Liner by Maybelline 😀 looking at the excitment you might have thought that I bought the liner in first go. But nope! I took my own sweet little one week to buy it…hehehe. Why? I don't know 😀 . After a week of use here is the review of the Maybelline New York Hyper Matte Liquid Liner .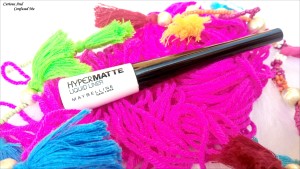 Price: 325INR for 3gms.
Here's why you will love it: First ever matte finish liquid liner by Maybelline New York, Gives 10X hyper intense black lines , Stays for 24 hours, Smudge-proof, water proof and heat-proof . The slim brush has an elongated, well-rounded applicator for ease and comfort in application and gives the perfect amount of product for precise
lining. Gives matte-est matte in 20 seconds flat!
Ingredients List and instructions : It was on the outer cover and sorry it flew 😛

My Experience with Maybelline New York Hyper Matte Liquid Liner :
• Packaging: If you have owned any of the Hyper glossy Liquid Liner, you instantly know how similar the packaging is. The eyeliner bottle is white in colour, has name written on it and ThankgGod comes with the same long perfect brush. The brush screws back perfectly and the packaging is travel friendly.
• The perfect brush shape I spoke about: The long brush gives a perfect grip to draw the eyeliner thin, thick.. the way you want it. The brush handle size makes it easier to apply. The brush has fine bristles and glides smoothly on the lids.
• Pigmentation and texture: The eyeliner is pigmented to the core and is jet black. Single stroke and the liner has a opaque punch on lids. The texture/consistency is thin and runny.
• The finish: Now the finish is not super matte, not glossy, but matte with the sheen. Looking at the swatches I was expecting this to be an out and out matte finish like the ones from Lakme gives. However its not. While applying the liner it appears glossy then it dries down quickly and appears matte after about 1-2 minutes.
• Performance: The liner dries quickly and once it sets it does not smudge. It stayed almost whole day without fading and smudging on my eyes. Only I lost the wings by evening, I mean wing of winged eyeliner: P. The splash of water dint do any harm either but gets off if you rub rather flakes off. You can remove the liner with just water So it isn't completly waterproof. It passed my gym test as well. It does not budge. Though my eyelids are oily very rarely eyeliner transfers due to heat, so this also managed to stay intact, did not transfer due to heat. The performance wise its really good and kept its family name intact.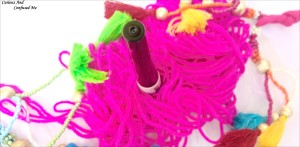 Pros:
Affordable, Great packaging, Fantastic applicator, Jet black, Lasts whole day, doesnot smudge
Cons:
Not completely waterproof, not completely matte ( If you expect complete matte finish)
Last Words: 
All in all I would say yet another great affordable launch by Maybelline which delivers great performance. It stands true to almost all, other than being waterproof claim. If you want an out an out matte eyeliner you might be little disappointed but other than I don't have any cons to list out here. Give it a try if you liked the finish.
Have you used this? Which finish do you like Matte or Glossy? 
Live Life to the fullest
XOXO
SB
---
---