Patanjali Body Cleansers review : Rose Kanti and Mogra
Hi All 🙂
Do you know my soap story? If you interested in it, click here . If not and you say show me the soap Girl, then here it goes. Today I bring soaps from Patanjali one Rose other Mogra( Jasmine) .

My experience with Patanjali Body Cleansers:
Ingredients: 
Patanjali Rose Kanti Body Cleanser:
Price: 19INR for 75g
What does Patanjali says and you can buy online as well: Rose Kanti
A reddish pink soap and as the name says has Rose scent. It's not too mild and not too strong.Okayish type. The soap bar is more like a gel soap bar. All the information about the soap are at the back of the soap cover.
Patanjali Mogra Body Cleanser::
Price: 25INR for 75g
What does Patanjali says and you can buy online as well: Mogra 
The Mogra Patanjali Body Cleanser came in a carton box with all the information back of it. It's a green translucent soap bar with Mogra scent. What I love about these soaps/cleanser that they make the bathroom smell lovely.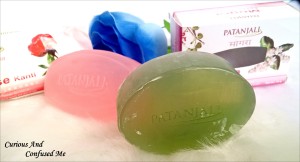 Performance of Rose Kanti and Mogra Body Cleanser:
You know this is my favourite part right =)). These body cleansers performed as good as the previous ones I used. Lathered well; Got washed off easily; cleansed the body well; Left a soft, squeaky clean and plump skin; Did not dry out the skin. These soaps smell great but the fragrance does not linger for long though.
As I mentioned in the previous review post, I want to try each and every variant of Patanjali soaps which comes in about 8-10 variants. These soaps does an excellent job, ingredients are good, extremely light on pocket. Must try.
Have you tried Patanjali soaps? Are you a soap junkie?
Live life to the fullest
XOXO
SB
---
---