MyGlamm POSE HD LIPSTICK : Raspberry and Merlot
Hi All 🙂
I dint intended to do a Lipstick Haul, but I did end up with loads of lipsticks within days, for its own reason. Two of them were from MyGlamm from thier POSE HD LIPSTICK in the shades Raspberry and Merlot.
These are pretty, HD range range is pretty to look at. They have a banana powder, a contour product and a blush too. I keep seeing the promotions and in Insta stories these days. Anyway, Lets Get into the review of the lispticks.
MyGlamm POSE HD Lipstick's come in a Cylindrical cardboard kind of packing. They have an outer covering too with the details on it. The lipstick tube has shade name written at the bottom. With the slanted kind of tube it does fit the lips properly. However, I don't think, thin lips ladies are going to like these. The lipstick has medium pigmentation. You can wear it as a stain or full blown color. The darker shade needed 2 swipes for that complete Opaque shade on lips.
The texture is not really creamy, but they do glide on lips. They give semi/demi matte on lips with the sheen. Its not the powder matt kind of lipsticks. Dab finger on lips or blot it with tissue you'll get your matte finish out of these. They stay about 5-6 hours, with minimal equal fading. Leaves a tint behind . The lipstick arent moisturizing kind, they rather felt bit drying after 5 hours. These are our usual bullet lipsticks , so aren't transfer proof. These don't smudge around the lips.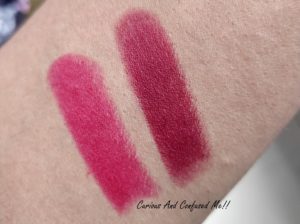 The shades I have are :
010 Raspberry: Raspberry pink with minute Red hints. Will suit every skintone out there and will brighten the face.
001Merlot: Dark Wine, grape color ( This fetches me bu*tload of compliments and awakens my inner witch!! lol) . Gothy plumy shade.
About the company claims, they do feel air light on lips, and gives demi matte finish. About the blurring imperfections claim, WTF is HD in makeup anyway. After applying lipsticks, lips looks normal the way they are.
Overall MyGlamm POSE HD LIPSTICK are pretty average, usual kind of lipsticks, with semi/demi matte finish and stays for around 5-6 hours. Nothing super special or we haven't seen already, but with cardboard packing , affordable price tag and good shade ranges these can be given a try. PRO TIP : Use their app to place orders, they have insane offers running all the time.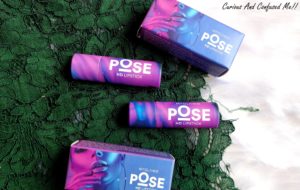 Live life to the Fullest
XOXO
SB
---
---