Garnier Micellar Cleansing Water Review
Hi All 🙂
Garnier Micellar Cleansing Water is what am I have been using recently to remove makeup. It isn't the new thing in the market, but it is for the India. Also this isn't the first review on this product, buttt.. I have been loving this so let me share my views too.
Price: INR 175 for 125ml/INR 399 for 400ml
Ingredients Breakdown:
Aqua or Water, Hexylene Glycol, Glycerine,Disodium Cocoamphodiacetate,Disodium EDTA, Poloxamer 184, Polyamonipropyl Biguanide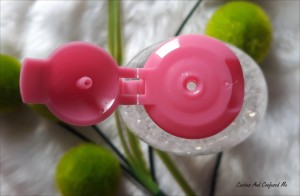 My Experience with Garnier Micellar Cleansing Water:
Micellar Water is a magical water for removing makeup, which is gentle on the skin. Tiny lipid molecules are suspended in the soft water which attracts oil and dirt from the skin. Leaving the skin hydrated, clean and healthy.
Garnier Micellar Cleansing Water comes in a plastic bottle, with the Pink flip cap. The cap is tight, no spillage or anything, I have traveled with it. But I would recommend getting a smaller bottle for travelling. Initially when the bottle was full, it was a bit annoying for me to tilt it every time. But now its okay. May be it's just me. The product feels and looks like water. But once it touches the skin, you can feel its not exactly water like. The texture is different.
One needs few drops of this on the cotton pad to remove the makeup. It is gentle on the skin and removes all the normal makeup. Waterproof mascara is a pain in the a$$, so this water really doesn't do much. Other makeup like base makeup, does get removed but needs good 3 rounds to be completely cleansed.
The Micellar water doesn't dry out the skin, rather it hydrates the skin. Using facewash is not required. But for night time I usually follow up it with face wash to get that " I am completely dirt grime free " feeling. But I must confess that during busy days I have just cleansed my face using this and I haven't see a pimple popping.
Garnier Micellar Cleansing Water is a very good makeup remover and is gentle on the skin. It's a must try.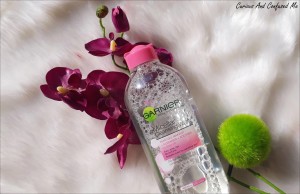 Who has been loving this? And who is on the second bottle allready?
Live Life To The Fullest
XOXO
SB
---
---