My sunday night routine + Quick review on VLCC Diamond Facial Kit
Hi All 🙂
In my previous posts I had mentioned that I will review a VLCC facial kits which I have.
So thought of sharing my Sunday night routine which, I follow almost every weekend Plus a quick review on one of the VLCC facial kit I own.
I do this on Sunday night , so that I get the max benefit and my face is all fresh for the next day and all ready to start the week.  
And it works.
I am not a parlor person and never will be! So these kits come in handy. You don't even need a fancy kit or this kit specifically. Just clean your face, scrub it, face mask it and then follow up it up with moisturizer. And add blackhead removing strip if you want to, add lip scrub thing in the whole pamper mix, and you are good to go.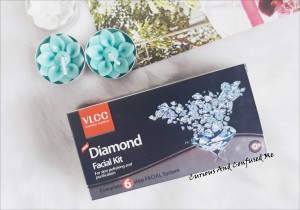 The VLCC Diamond Facial Kit Comes with the 6 products, each containing 10gms product.
The cleanser cum toner : White like glue and feels like one too but lathers well, deep cleanses the skin, makes it soft and leaves a moisturized squeaky clean face.
The scrub: The scrub is transparent like gel and looks silvery sparkly, since it has diamond bhasma particles. The scrub particles are mild and not at all abrasive on the skin. Once you scrub the face leave it on 15-20 mins. It removes the dead skin cell effectively.
The lotion: You are supposed to massage your face with it. Its lotion like and can be left on the face.
The gel : Next comes moisturizing gel. Enriched with diamond bhasma particles and has artificial scent. It never really dries down, you just needs to massage your face with it and clean it off using the cotton ball.
The mask: The final step of the kit. This too is bit gel kind but opaque. I applied a thin layer of it on face and let it sit on face for about 20 minutes. It is not the peel of kind but gives a glow post use. After this you can either follow it up with the moisturizer or like in my case follow up with the facial oil.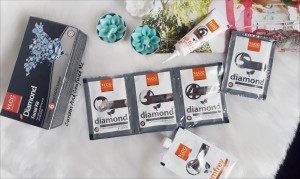 Does the glow stay long: With this kit it stays 1-2 day which is okay for the price.
I love this routine of mine, I find it very pampering and I scrub the face, in between the week. 
Do I recommend this kit: Yes, one can try from the plethora of the options available in the Just ready around to see which one suits your needs. For reference I have oily skin. 
Problem I find with this kit is: The amount provided is enough for 2-3 usage but none come in a sealed package. Storing is a bit problem with this. However this makes perfect kit for that girls kitty party, girls night out kind of thing 🙂 Or if bloggers get together for night out. Ughh cant that be possible. God make that possible please.
If you want a detailed review of this kit, you can check out Sonali of Skincare Villa blog review on this: Click here . Coz I just spoke some gibberish about the product, din;t really review it thoroughly. 
Do you use facial kits? Do you have any Sunday pamper routine?
Live Life To The Fullest
XOXO
SB
---
---