Innisfree Jeju Volcanic Nose Pack Review
Hello All 🙂
I wasn't really into the whole let's remove blackhead thing
I never had major blackheads issue, but since I have oily skin it does show up during summer. And when you are all made up it does show up you know. I wanted that clean shiney nose plus I allways felt like an idiot trying those hacks!! yeah well.
So here is the review on Innisfree Jeju Volcanic Nose Pack.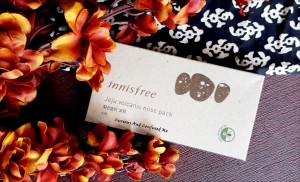 Price: 250INR for 6 strips
Product Description, how to use and ingredients:
My thoughts on Innisfree Jeju Volcanic Nose Pack:
There are 6 strips in this very rustic kind of box. Each strip is packed individually in a sealed packet. Inside that too the strip is attached to a plastic sheet. One needs to moist the nose first and then apply the strip on the nose. One can use these on the forehead and chin too, but I haven't tried it. Once stuck on nose, I leave them for about 15 minutes and remove them. The instructions are printed on the back of the box and on each strip sachet too.
After 15 minutes,  I feel strechy on the nose and it hurts a bit while removing it. The removed strip had all the tiny hair, impurities and most importantly blackheads. I felt that on the first use it removed about 90% blackheads/dirt. I used the 2nd strip after 2 days itself. Which removed all the left over impurities. Now it's been 2 weeks and I haven't seen the blackheads coming back. After removing the strip, the nose became red, I cleaned it and followed it up with the moisturizer.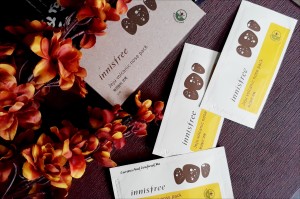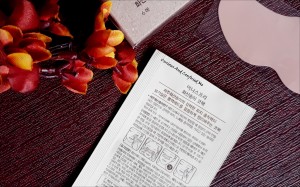 Pros :
Packed neatly, affordable, Removed black heads and all the impurities, Easy to use/carry, can be used on forehead and chin too.
Cons :
While removing the strip hurts and burns a bit (tolerable)
Innisfree Jeju Volcanic Nose Pack delivers what it claims and I am extremely happy about it. I get clean, shiny, soft nose. Moreover the results are long-lasting which is like cherry on the cake. I am not really big on strips for face or nose , so next time I am trying the nose pack thing. There is another product by Innisfree which is like a paste which turns solid I believe. However I am defiantly keeping a backup of these, due to the ease of use in emergencies. Also I believe, if used in moderate these strips won't really hurt the skin. Since most of the nose strips I have seen falls in the same price range, I recommend Innisfree Jeju Volcanic Nose Pack to the one which is looking for product like this.
Have you tried this? Which Innisfree product have you used?
Live Life To The Fullest
XOXO
SB
---
---