All about Anarkali dresses!!
Hi All 🙂
Today's post as you can see it in the title is about the Anarkalis. I dint really see a point in writing a huge intro to the post and then saying tada I am going to talk about Anarkalis.
However let me tell you what are they in some words. Well its nothing but women's dress, which makes our special occasion super special. They come in like long flowy gowns, having loads of gold, silver threaded work on them. However these days there are cottony ones, in crepe, Georgette material, which can be worn in any day to day life.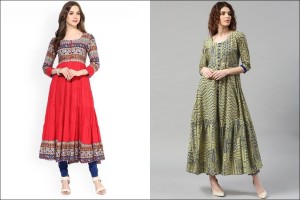 Anarkalis looks good and extremely elegant on everyone. However there are tricks which a girl needs to know to while picking up a Anarkali dress, to flatter the body type/height : 
One should give attention while picking up flares. When I pick up an dress, being an apple structured person, I usually like the colour blocked one with not so much flared bottom which is different in shade, from below the bust area. Petite women, short girls can go for less flare, where as the hourglass figured tall girls, can go for heavy flared one. Something like our Bollywood actress don. And people with heavy bottom should go for flares which starts at the waist, and the not bottom.
Initially the Anarkalis would stop at the knee or below/above the knee, however as per my observation, these days the dresses are way below the knee and almost touching the ground kinds. Which looks amazing actually. Just avoid the ones which stop above the knee. I mean you need a princess look here so pick the one which is long and flowy.  As for the neck, V necks look good on everybody. If you have a heavy bust, avoid those boat necks, and heavy embroider at bust area.
I understand when Anarkali is worn during festive or special occasion, we being Indians we love hoarding on accessory. But I usually don't like wearing a long neck piece with them. I just feel that it kind of distracts from the beauty of the dress. Rather I always go for heavy jumkis and finish it off with bangles. And if I am wearing neck piece I stick to stone necklace which lie near the neck it self. And you can carry a clutch with or potli kind purses. You know to carry essentials, I would not really recommend carrying a big handbag with the dress for occasion. And day to day life you can pick up oxidized small jumkis or even your stud will look elegant with the cotton Anarkalis just like in the case of Kurtis.
Anarkalies come in velvet, Georgette, net kinds usually which either have heavy work on them, solid color ones . For occasion, the floor length ones are the best, easily available gorgeous piece of clothing. However there are few other styles which I have been seeing and which I have being liking.
One would be Layered anarkali suits are also in these days. As the name says, it will have many layers, of the same shade or different shades, ombre fashion. Some layered will be in high low fashion too.
Another would be Cape style. This one is recent and I see them everywhere these days. In this case usually the dress is of one solid color and capes are usually in light peach, gold and silver in shade and transparent with some sparkly bits. Then there are Jacket Anarkali. If you are not really a lover of dupatta/shawl, you can try jacket ones. Also heavy busted girls can go for this. Even in this case the the dress will be of solid colour and the jacket will have heavy work on it, and it will be a center of attraction. The jackets may be or may not be attached to the dress itself.
Recently I saw a girl donning a plain black anarkali with the same coloured legging with the cotton light weight jacket. Ughh can't explain how awesome it looked. She finished it off with the bun and just a stud as accessory. This shows how we can incorporate Anarkalis in daily life too and need to stick to just straight A-line cut Kurtis.
And initially only the leggings and shawls was the only style donned, for day to day time. However now a days there are more. One could wear it with comfortable pallazos or over a skirt. If you plan to wear anarkalies over a skirt, make sure the anarkalies have a long slit in the middle. If you follow me on instagram you might have seen a boomerang video I made a few days ago with a white Anarkali/dress. I had worn them with the palazzo underneath.
These are just some tips I have. I am not a pro, I repeat, I am not a pro at all, but these are just observations and ideas of mine. Myntra has some really awesome Kurtis and Anarkalis in the collection, which I am currently eyeing. You can check them out too if you are looking to buy these online.
And for occasion Don't forget the heels, whether you are tall like me, short, medium height. You need to wear heels okay? Dont let your height come in the way 🙂 All the best!!
Live Life To The fullest
XOXO
SB
*Sponsored post
---
---