Nicka K Silky Cream Stick Razzmatazz : Review, swatch
Hi All 🙂
Nykaa launched Nicka K a while ago and I picked up one Nicka K Silky Cream Stick in the shade Razzmatazz.
This isnot my first product from the brand as I have used their NickaNew York Perfect 32 Colors Eye Shadow Palette 
I had read about these in an international blog. These are called as dupes of colorupop creamy lippi stixs. I usually don't pick up international brands much, as I feel it is bit unnecessary to shell out double the price for $2-$3 products.
But since I liked the shade and also I wanted one to review, I picked one it up, lets get onto the review.
Nicka K Silky Cream Stick Razzmatazz Price: 550INR for 2.5gms
What brands says: Intensely pigmented and high on color, Introducing the Nicka K Silky Cream Stick! This medium to full coverage lip pigment, a Creme style lipstick is perfect for achieving a demure and subtle look.Available in stunning shades, these creamy lipsticks elevate your makeup look and leave your lips caressingly supple allday long. Available in Vibrant Creamy Colors, these lipsticks will surely grab all the attention!
My experience with Nicka K Silky Cream Stick :
Packaging : These Silky creamy Stick comes glossy, plastic tubes and color coded with the shade. It is a twistable type chubby stick with the flat bullet. The shade name is at the bottom. Only one problem with this is, initially a little product sticks out so one might nick Nicka K while putting the cap back on. But since its creamy after a while it wont be a problem.
Shade: The shade I have is Blue based Fuschia. It will suit fair, medium to dusky when applied in right amount. It might be neon on Darker, deeper complexions. It reminds me of Wet N Wild MegaSlicks Lip Balm Stains in A Stiff Pink .
Texture/Pigmentation: The texture is super creamy and smooth. As the name suggests it's a creamy one and glides on lips very easily too. Does not go patchy on lips. The pigmentation is insane, forget 1 swipe I just press the bullet on lips at times. It's very pigmented.
Staying Power: Being creamy in nature it transfers, but it stains the lips and leaves a tint behind. So I would give an overall 4-5 hours. Touching up part is easy with this kinda stick or formula. It fades somewhat evenly when you munch on snacks. Oh yeah, it looks creamy on lips.
Pros:
Pretty shade, Creamy finish,Comfortable on lips, Easy to touch up, Twist up type pakckaing
Cons:
Pricy for the amount it comes
Last words:
Nicka K Silky Cream Stick is gorgeous blue based fuchsia which brightens up the face instantly and stays for a good amount of time. In the gram versus price it becomes little pricey and would recommend getting them on sale. If you don't care about that all that, and you are lipstick addict like me, do check out this range and shade. There are some interesting shades in the range, as for the formula it's not which we haven't seen already.
As for me I want one from their Matte range and a blush Duo.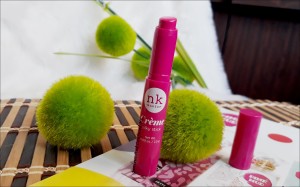 Have you tried this brand yet? You like chubby sticks?
Live Life To The Fullest
XOXO
SB
---
---