PAC Matte Lipstick 17: Review, swatch
Hi All 🙂
PAC is one of the brands one must check. They have some amazing and unique products at affordable rate. So when they launched a matte lipstick priced at 400INR, I had to try one.
The shade I have is 17 and lets head onto the review of PAC matte lipstick
Price: 399INR for 3.2gms
What PAC says: Try PAC Matte Lipsticks for the perfect pout! Shades that will glide on your skin and give an intense color payoff.40 high dimensional shades with a matte finish! Intensely pigmented lipsticks handcrafted for extreme moisture and sublime texture. Incredibly creamy wear.
My experience with PAC Matte Lipstick
Packing: Glossy black body with the magnetic cap. I don't know what it is, the cap or the black body or the overall look, the lipstick looks classy AF and pretty. Comes In a cardboard box with the all the details in it. The shade no is at the bottom of the lipstick.
Shade : PAC Matte Lipstick 17 is an Oxblood shade. It has the right amount red in it, so it does not make face look dull or old. I usually wear it with the wing liner and I am set. This shade is going to suit everybody and a fall shade for the season specific people. And for me, just an everyday shade 😉
Texture/Pigmentation: The lipstick glides on lips beautifully without any tugging. It has a creamy texture with the insane pigmentation. One swipe and even my pigmented lips get 100% shade.
Performance: Once you have swiped the lipstick on lips, it gives the satin finish at first and then after an hour or so it sets into semi matte finish. It is not one of those powder, dry matte kind of formula or finish. These are more of comfortable on lips kind of range. They do transfer initially however it is minimal and once set it decreases even further. It does survive little snack and munching, even after the full meal about 40 % shade remains intact. The fading too, is even. They stain the lips so even if the entire lipstick goes off completely, you will have a tint on your lips. Overall they stay for around 7+ hours. These don't settle into fine lines and don't bleed.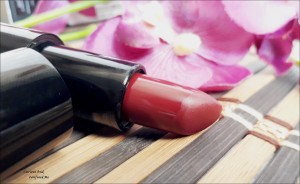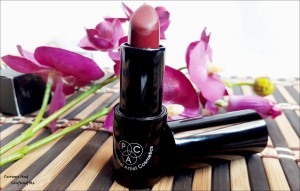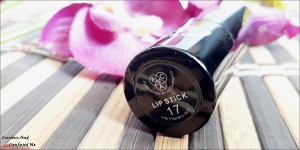 Pros:
Affordable, comfortable matte finish, Oxblood shade, great packaging, magnetic pack, Awesome pigmentation, Stays for a long time, stains lips
Cons:
PAC products OOS soon 😛 , Too many reds and pinks in the range
Last words:
This lipstick is one of the gems in the lipstick category. It fulfils all the claims. Comfortable on lips, not heavy on pockets and stays for long. I know I always say that I am gonna buy one more and then move onto next range, however this time I am going to pick 2 more from this range. I hope they launch more shades in this, as out of 40 shades 90% are reds and pinks. Recommend and Must try.
Holla!! Before I end this post. I wanted this kind of oxblood shade from long and I was settled on one of the liquid lipstick in this shade. Since one of my friends had that shade, I tried it before purchasing. Since the oxblood shade is very prominent, after the lunch it was an utter disaster. The colour faded in between, some part was chipping and while removing it kind of moved out of my bumble bee stung lips. Just sharing this information before you end up with expensive oxblood liquid lipstick.
Do you own oxblood shade ? Have you tried PAC brand?
Live Life To The Fullest
XOXO
SB
---
---