Maybelline The Colossal Kajal 24HR Smudge Proof Deep Black with Aloe Vera : Review,swatch
Hi All 🙂
Colossal kajal by Maybelline needs no introduction. I remember the first time I bought a colossal kajal it was a huge deal, they kinda changed the whole kajal game in Indian market. With time they have been improving the formula, making it bolder, darker and stay longer.
Maybelline The Colossal Kajal 24HR Smudge Proof Deep Black with Aloe Vera is a new version in colossal family. I was sent this and I have tested this enough, so here is the review.
Price: 180INR for 0.35g
Product Description :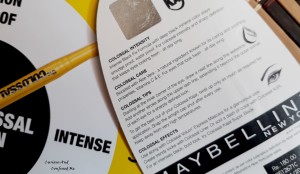 My Experience with Maybelline The Colossal Kajal :
Packaging: The usual Yellow body which comes, sealed in packaging which again has yellow and black all over it. Just like its older sisters the kajal comes in a retractable packaging. Practical and travel friendly.
Shade: Jet black color . No bottle greenish or greysih stuff. Plain black , deep kajal.
Texture/Pigmentation: The kajal has a creamy, smooth texture and not dry. It glides on upper lashline and waterline without any tugging. The pigmentation is too, is good. The waterline would need about 1-2 swipes and upper lash line 1 swipe.
Performance: The kajal though has all the aloe vera and all, its ends up giving matte finish. Which I like. It can be smudged initially, but one needs to be fast since it sets fast. The kajal has not irritated my eyes, and this can be used to tightline the eyes very nicely. Recently I came across a kajal which is dry and stiff and to be honest now I understand that why a kajal should be smooth and creamy. The drier the kajal it irritates the eyes. It is a smudge proof and waterproof kajal as well.
The main question does it stay: Definitely not 24 hours. It stays around 9+ hours on the upper lashline, with fading at the end of the wear time. Oh if you have wing on eyes, it will starts fading after 6 hours. And on the waterline I would give 5-6 hours with bit smudgy effect. The old colossals never crossed 2-3 hour mark on me, so definitely something has changed. However it doesn't give panda eyes.
It needs a oil based makeup remover to remove it completely from the waterline. Make sure to remove it completely you don't want to leave that one dot of kajal like I used to do it which I have mentioned it in this post Eyecare, the mistakes I did and what I do for eyecare .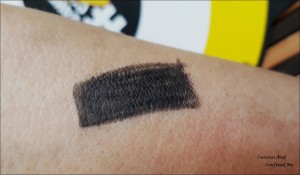 Pros:
Affordable, Jet black, Does not give Panda eyes, Waterproof, Stays for good amount of time, Not dry and very creamy smooth texture, Cheery yellow packaging. 
Cons:
Smudges a bit on the waterline after 5 hours, 24- hour claim is is is little too much.
Last words:
Overall I liked it. Though the claim of 24 HR is not really true, And doesn't stay beyond 5-6 hours on waterline, I would still recommend it looking at its Affordable rate. The colossal loyal will surely love this. And for sure formula has changed as it stayed little more than the original formula. All in all Maybelline The Colossal Kajal 24HR Smudge Proof Deep Black with Aloe Vera is budget friendly, jet black,everyday kajal with a Matte finish. Do try it.
Have you tried this? Have you tried any colossal kajal?
Live Life To The Fullest
XOXO
SB
*PR sample
---
---