Lakme Perfect Definition Lipliner Black Currant : Review,swatch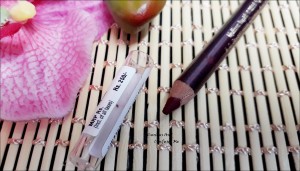 Hi All 🙂
Today I am going to talk about Lakme Perfect Definition Lipliner Black Currant which I feel is an underrated product in the Indian market. In the world of lipliner this isn't much talked about or hyped about. But then they are still there in the market.
Lakme Perfect Definition Lipliner comes in a basic sharpenable wooden pencil. Its gets sharpened easily and the body of the pencil is color coded with the shade. The shade I have is Black Currant deep matte berry-plum color. Something that goes with deep plums, Berries, Magenta even the deep oxblood shades. Something I was looking for. It's not the creamiest lipliner out there. Though it doesn't tug on lips and in the end it's little stiff doesn't really glide on lips like butter.  The pigmentation is medium, it doesn't alter the shade of lipstick. It is not the moisturizing lipliner nor it's drying one. On it's own it stays 3-4 hours and it effectively stops the lipstick from bleeding. And it improves the performance of the lipstick when worn under the lipstick.
If your lipstick choices are similar to mine, this shade is doing to come in handy. Lakme Perfect Definition Lipliner comes in 4 shads Walnut, Cocoa fudge, Black currant and Go grape. You know all those less used or uncommon shades. If you are looking for these kind of shades I would say give it a go. Recommend.
Price: 250 INR for 1.1 grams.
Have you tried this lipliner? Do you use a lipliner?
Live Life To The Fullest
XOXO
SB
---
---