Gillette Satin Care Sensitive Skin Shave Gel with Aloe Vera Review
Hello All 🙂
Product description: Gillette SatinCare Sensitive Skin Formula shave gel with Aloe Vera is specially designed for sensitive skin. This lightly fragranced gel with advanced lubricants provides incredible razor glide, protecting you against nicks and cuts. Helps Protect Your Sensitive Skin. This special Sensitive Skin formula contains soothing Aloe and Vitamin E to help decrease irritation on even the most sensitive skin. And leaves you soft and smooth every time you shave.Gently rub shave gel over wet skin to produce a rich lather for a smooth shave. Use with Gillette for Women Venus shaving system for best results.
Ingredients: Water/EAU, Glycerin, Palmitic Acid, Triethanolamine, Stearic Acid, Isopentane, Glyceryl Oleate, Isobutane, Sorbitol, Hydroxyethylcellulose, Fragrance/Parfum, PEG-90M, PTFE, PEG-23M, Propylene Glycol, Aloe Barbadensis Leaf Juice, Hydrolyzed Silk, Blue 1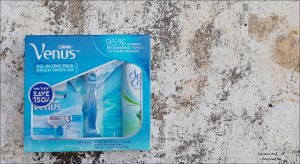 Let's face it, even though there are parlous waxing and then epilators, creams we resort to shaving.
As it's easy , quick, time saving and effective.
So I wanted to try this shave gel, I wanted to cartridge for Venus razor and Mum wanted the Gillette venus razor
Poof I got this whole bundle for about 420 INR
Hurray 😀
Price: 225INR for 195 g ( The Gift Box: 550INR )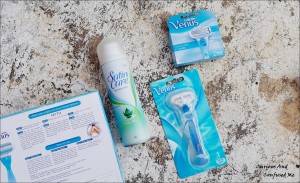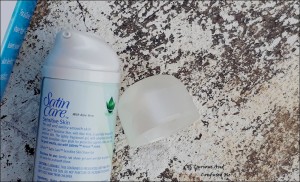 My Experience with Gillette Satin Care Sensitive Skin Shave Gel with Aloe Vera:
The Gillette Satin Care Sensitive Skin Shave Gel comes in this huge steel can, which is blue in colour. The cap is made out of plastic and there is nozzle at the head for the product to come out. The shave gel is blue in colour; it's like blue toothpaste (Which as a Kid I devoured along with many of my friends. Judge me 😛 ) Coming back, the gel turns into white foam the moment you start spreading it on the wet skin. A little goes a long way, so you just have to be careful while pumping the product out. The product has a very pleasant mild scent to it, which is well is pleasant.
The thick foamy layer this product creates, prevents any cuts or burns which might occur due to shaving. I use Gillette Venus Razor, which again is one fantastic product which doesn't cut or burn the skin. I have tested this product with the normal razor too and it yielded the same result. But with this Gillette combo I have not had any cuts/burns any kind of itchiness. My skin in not sensitive but I do feel the burn at times, if I use the normal soap or shower gel. Which I don't experience with this shaving gel at all. Along with that it gets rinsed off easily and leaves behind a soft silky skin which is moisturized.
Though the can sits pretty on the shelf and looks pretty too, but I would not put it on the bathroom shelf since it's a steel can. Also I wish it came in a smaller size.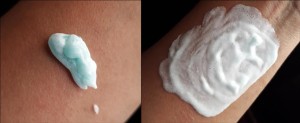 Pros
Affordable (Little goes a long way), Soothing scent, Great gel formula which turns into foam, Prevents nicks and cuts, Do not burn the skin, prefect for any skin type specially sensitive 
Cons
Wish it came in a smaller size, wouldn't be a good idea to keep this steel bottle in a bathroom
Last Words:
Gillette Satin Care Sensitive Skin Shave Gel is amazing product does its job well while keeping the skin moisturized and preventing it from burn/cuts. Gillette Satin Care Sensitive Skin Shave Gel and Gillette Venus Razor are 2 products I discovered in 2016 which I feel are totally worth the money. Sensitive skin or no sensitive skin if you want a shaving gel, one should definitely go for this. Recommend.
Do you use this? Do you use a shaving gel?
Live LIfe To The fullest
XOXO
SB
---
---