Nykaa So Matte! lipstick Wicked Wine : Review, swatch, LOTD
Hi Cupcakes :*
Nykaa : A beauty stop in India. An online beauty store which houses maximum numbers of brands and keeps adding brands to kitty too.
And in between Nykaa have been launching in house beauty products too. For now they have launched their bath products, nail paints (I have lost count of the shades I want). Recent addition is Nykaa So Matte! lipsticks in 12 shades.
All the shades are beautiful. For an initial baby step I picked up only one which is called Wicked Wine. You know to test, to check, and all that bla bla.
For now let's head onto the review.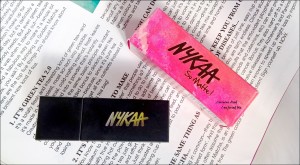 Price:399INR for 4.2gms.
What Nykaa says: You've got a new favorite matte lipstick! The creamy, long-lasting texture gives you pout-worthy lips in one stroke. It effortlessly glides on your lips, giving you a gorgeous soft matte finish. Pucker up and party with our delectable matte lipstick. Muah! Pigmented, Long lasting, Vitamin-E enriched.
My experience with the Nykaa So Matte! lipstick :
Packaging: Love. The Nykaa matte lipstick with the funky cardboard box with all the details on it in black. The square shaped black lipstick is even more funky. Has a matte body with the Silver coloured Nykaa name printed on it makes it look like it is from some high end brand. The cap has a magnetic system for closure. Its luxury.
Texture/Scent: Matte lipsticks so have a draggy stiff nature? No. These are faar from Matte. These are rather Creamy lipsticks which has super soft texture.They glide on lips and are extremely light weight. The shade I have is darker hence the pigmentation is bang on. One swipe is all one need. I have read the reviws around and I belive the lighter shdes need about 2-3 swipes. But still all the shades have good pigmentation. Though these start as creamy with slight sheeny, they set as semi matte in a while. And has a faint vanilla scent.
Shade: Wicked Wine is a Wine Red/ Deep Maroon shade. This will match every skintone out there, goes perfectly well with the Ethnic dresses as well as LBD's . I wear it any time of the day, yeah I am girl like that.
Performance: Once set into semi matte, the lipstick stays for about 4-5 hours. With the slight munch and snacks, the intensity goes down a little but it fades evenly. Even after the lunch the lips have this tinted sort of shade on the lips. Lips stay happy with this lipstick. There is no strechy feeling no dryness, as the lipstick is enriched with Vitamin-E and Castor oil . You can use this lightly and make it look like a stain, that I just ate Berry fruit kinda thing. The one which we see often on Hollywood actress.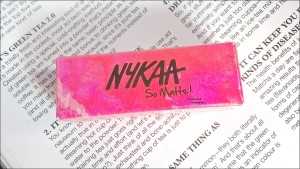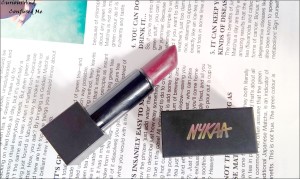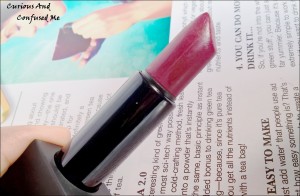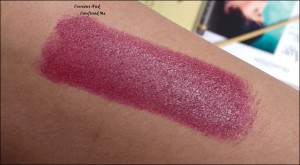 Pros:
Affordable, Stays for 4-5 hours, Good color payoff, will take of pigmented lips well, Cruelty free,can be used as a stain
Cons:
Available only online, have to rely on online swatches, not a powder matte finish.
Last words:
I am happy with the purchase and the shade. Currently from the 12 shades they offer, I like the Plum shade, I might go for it in future. If you looking for pinks or neutral shades for office check this range. Overall pretty shades, decent staying power, non-drying and affordable. Dont expect a powder matte finish out of these. Also I hope Nykaa brings some unique shades in this. Do try this if you like any shade.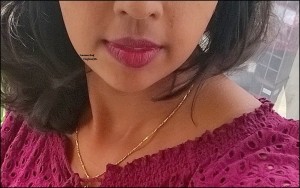 Have you tried this? Have you tried anything from Nykaa brand?
Live Life To The Fullest
XOXO
SB
---
---