Lakme 9 to 5 Weightless Matte Mousse Lip and Cheek Color in Burgundy Lush: Review, swatch, LOTD
Hi All 🙂 
When Lakme 9 to 5  Weightless Matte Mousse Lip and Cheek Color launched I jumped with joy, then jumped again when I got to know the price 😀
But it took me a while to get hold of one, since I have it now lets get onto the review of it.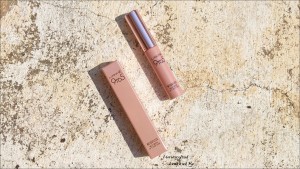 Price: 575INR
Product Description:  Lakme's first lip and cheek color comes in a mousse texture that's weightless, giving a powdery matte finish to lips and a soft blush to your cheeks.  There are 10 vibrant shades designed especially for both lips and cheeks.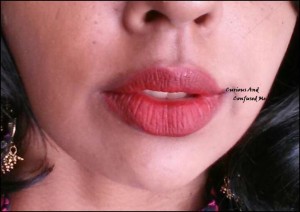 My Experience with Lip and Cheek Color:
Packakging: The 9-5 range of Lakme has rose-gold theme to their products, this too comes in a rose-gold cardboard box with all the details. The tube has a flesh pink body and rose-gold applicator. It has a transparent sticker at the bottom which has the shade name written on it. I found the packaging cute. The applicator is heart/leaf shaped, with the hole in the middle. Its been designed to pick up the required amount of product and to Help in precise application.
Shade: Burgundy Lush is a Deep Red shade. A good mix of Burgundy and brown,which does not add any age to face. This will look good on ethnic wears, I am huge black clothes hoarder and black on black type of person this shade goes perfectly with those black on black attires.
Texture/Pigmentation: The Mousse Lip & Cheek Color light weight air whipped mousse texture. The mouse creamy texture turns into powder on cheeks after blending . The pigmentation is really great, I get even toned lips in one swipe.
Performance : Once applied on the lips it settles into matte finish in a while. I like that it takes a little while to dry, at times I mix brown/orange shade to it to make it a little different shade. Being a matte lip product, you need a moiturized and exfoliated lips for smooth application. As a lipstick it stays for overall 5-6 hours, it survives the little snacks/munching  but not a big oily munching, i.e Lunch.The lower lips looses shade. Honestly I haven't come across a liquid lipstick that can survive a lunch, so its good. Touching up part is easy peasy, or you can just get the product off from lipstick comlletly and apply this again, which again is easy. During its entire wear time it does not get crumbly or crack up. It stays in its true velvet matte finish all the time and by the end of the weartime, one might feel little dryness. Its not entirely transferproof. Also with one swipe you can get a daily shade not that prominent burgundy where as with 2 swipes you can get a prominent burgundy pout.
As a cheek product it stays good for, around 4 hours on my oily cheeks. Since I am dusky this shade works well as blush on me. Gives me a nice dash of Red/Brown shade on cheeks. Blending needs to faster, like just a dot on face and then blend it. Needs to be done one cheek at a time. But on fairer/medium skin tone this might not work as a blush, it might end up looking a bruise on cheeks =)) Since it is that pigmented.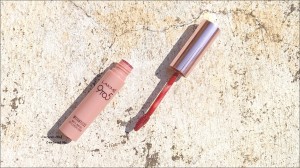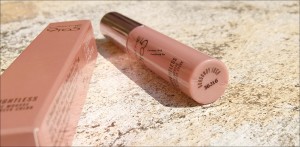 Pros
Good pricing, Great shade/texture/formula, 2-1 product, Stays for 5-6 hours on lips and even on cheeks, Easily available.
Cons:
Needs an exfoliated  lips, dark shade hence might not work as blush on lighter skintone, Not completely transferproof, Lips might feel dry at the end of wear time.
Last words:
Overall Lakme 9 to 5 Weightless Matte Mousse Lip and Cheek Color in Burgundy Lush is a fantastic product, which was worth all the hassle I went through to get it. Whether it works as 2-1 or not, its a new candy in the lipstick store. And its a good one. I might try catching another one during the sales. I have read the reviwes around and apart from the tangerine fluff all have got a good rating. I call it a Must try 🙂
Have you tried this? Any shade you are eyeing on?
Live Life to The Fullest
XOXO
SB
---
---