PAC Retro Matte Gloss 18 : Review, swatch, LOTD
Hi All 🙂
So PAC launched Retro Matte Gloss a while ago, and since I am sucked into the Liquid lipstick trend big time. I got one ( Yay ) in the shade number 18 .
I have tested this enough for a week, so here's the review
Price: 550 INR for 6.5ml + Shipping If you are buying it online
Product Description : A revolutionary new lightweight, non-drying formula in our liquid lipsticks! Gives you an opaque payoff with just one swipe! Our liquid lipstick dries down matte right after one swipe and lasts through thick and thin! Available in 20 unique shades.
Ingredients: 
My experience with PAC Retro Matte Gloss :
Packaging: PAC Retro Matte Gloss comes in a transparent hard plastic tube, which has a doe foot applicator. The packaging itself is very light and sturdy, very travel friendly. The doe foot applicator picks up the right amount of product, spreads the product efficiently and reaches every corner of the lips. If you have been following liquid lipsticks you would know The Dose liquid lipsticks and Jefree star one, these kind of looks like those.
Shade: PAC Retro Matte Gloss 18 is a beautiful mix of Mauve and a little brown with the hint of pink. The pink undertone to it makes the face look lively. With the one swipe it could be this MLBB shade for Dusky/Deeper skin tone girls. It's a "you can wear it anytime kind of shade", if you are specific about that. I have been wearing this continuously since a week, and it goes with all the eyemakeups, office wear/ casual wear. Beautiful shade. Even the shade 19 is pretty similar to this, a tad bit darker though.
Texture/ Pigmentation: The texture is not liquidy rather it's mousy. The shade I have is darker so the pigmentation is awesome; with one swipe itself it gets opaque. I believe the lighter shades needs about 2 swipes. However this one, its awesomesause and no streakiness.
Performance: Once applied it looks glossy but sets into perfect matte finish in no time. One swipe dries super fast, however 2-3 swipes takes few more seconds to dry but not like minutes difference. Anyhoo, perfect matte finish is we want and we get 😀 Once set, it doesn't budge or transfer. That is the beauty of the liquid lipsticks. Until you eat oily food 😛 It breaks them down. Overall the liquid lipsticks stay long 7+ hours without fading or cracking. It survives the sipping of coffee/tea but if you eat something which is oily , the lips start losing the shade. You can either touch up or remove it completely and wear it again. Pretty easy that way. It leaves a tint behind but it won't stain the lips.
Being a matte lipstick, you need smooth and well moisturized lips. But if you are used to liquid lipsticks, then you won't feel any difference. You can remove this using oil based removers at the end of the day.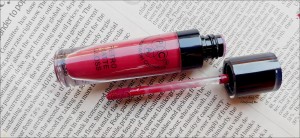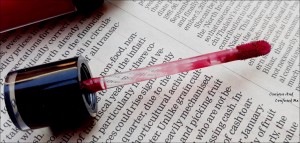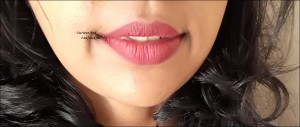 Pros:
Great packaging, Pretty shade ( Can be worn day time, night time, college, office ), bang on pigmentation, Perfectly covers the lip pigmentation, Long lasting, Affordable, Lovely texture, no streakiness, doesnot crack.
Cons:
None .
Last words
I say no Cons as all liquid lipsticks break down with oily food and are little drying over the time. Though 20 shades, most are similar but run of the mill kind of the shade and you are ought to find something of your choice. I will buy 2 more shades, soon. PAC Retro Matte Gloss 18 is beautiful shade which is kind of IT shade right now.
PAC Retro Matte Gloss are Affordable liquid lipsticks with great color payoff and long lasting. Recommend.
Also PAC has collaborated with many youtubers who have different skintones, do check them for swatches. I believe only 2 shades have streakiness issues, make sure you don't end up with that.
Behind the scene: The paper flew while taking the pictures and tube decided to roll far away from me; 2 people looked at me as if I was a alien when I was taking LOTD pic 😛
Have you tried this? Do you like liquid lipsticks?
Live Life To The fullest
XOXO
SB
---
---