8 Hacks That I Use Daily!
*Guest post by Bhawna
Hello All 🙂
You all would agree that appearing all assembled and pretty is definitely a task! But nobody got that time to devote on appearance when on the other hand of the duel stands an extra minute of sleep or rest. My college buddies would prefer to wake up barely 20 minutes before they leave, while I, getting up like a morning bird at early hours, would be dozing off either in the bus or in college. Solution? Hack it up my ladies! *wink*
Here are a few of the everyday hacks that I incorporate in my routine. They not only save time, but let me remain in my comfort zone while the sun outside begins to shine enlightening the world. So grab your notepad; let's begin.
Using Baby Powder as a dry shampoo: I have a greasy scalp and I really do need to wash it off almost on an everyday basis. But at times, halfway through the day, my shafts get oily and I can't really wash it in college. So I keep a small bottle of baby powder and massage it through whenever it gets oily. Also, it makes your baby fine hair look more thick and voluminous. Dry shampoo at the price of a nail paint; what more can you ask for?!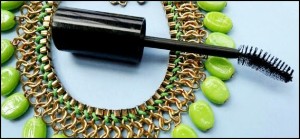 Mascara wand for setting the eyebrows: Not that I don't get my eyebrows threaded but I keep them thick. So after the filling in procedure, I like to set them by spritzing on some hair spray onto an empty mascara wand and combing it through. This not only lets the eyebrow hair stay in place, but slightly lightens away the eyebrow filling, making it natural and not overdone.
Bronzing stick: Bronzing is what I love to death. Without a bronzer on, my pictures in flash appears ghastly! An easy way to bronze your face is by using a soft creamy nude lipstick without shimmers. I use the Maybelline's Creamy Matte lipstick in the shade 'Mysterious Mocha' or Rimmel's Kate Moss lipstick in '105- Rossetto'.
Cropped to no sew: I have never been a fan of long tees or tops. It makes my broad shoulders appear broader. Use a hair tie for eliminating the exaggerated length of your tops. Gather the length that you wanna eliminate at not the center but slightly towards the side, tie it using hair elastic and flip it inside. Adjust the entire edge of the tee shirt from the bottom making it look as if it's either short or perhaps tucked in but as per your desired length/positioning. Voila, temporary work within few seconds!
Messed up bangs: Recently had a hair cut? But the bangs have their own lives to live and cherish, wavering away in the direction of their own. Twist the front section of your bands and clip it sideways using small strands each time. You can do this with a center as well as with an extreme side part. It's hard to be precise with explanation so refer to the pictures below!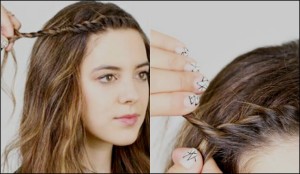 Acne issues: When you have acne, you can't really use the same things to treat them on an everyday basis. Sometimes, I relieve my skin by skipping upon any ointments and using Lavender Oil for calming the bumps. Take a small piece of cotton, damp it just a little and add in a few drops of the Lavender Essential Oil. Two drops are enough! Now use this cotton for application. I use the Blossom Kochhar's aroma magic one; you can use the one that's available to you. Or else, you can out to use a piece of alum. It's cheap, easily available. All you need to do is wet it under the running water and apply it directly onto the pimple gently.
Using moisturizers or oils as makeup remover: I've never been an owner of a makeup remover. Whenever I've used any long lasting and waterproof makeup items, I'd remove it by applying some moisturizer or oil directly onto the makeup. Massage it through and then wash away your face like you usually would with a face wash.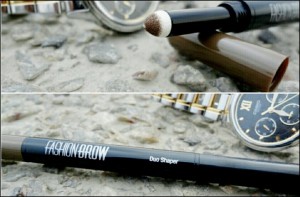 Smoked out lower lash line: While Indian beauties are all about kajals, they make my eyes appear small and turn me into super gothic character from the fictitious space! But if you'd got your eyelids jazzed up with eyeshadow, then you do wanna balance it out onto the lower lash line. My trick is to use the powder side of the Maybelline's Fashion Brow Duo Shaper pencil (in brown) and work it out on the lash line plus a little lower as well. Also, you save so much time by not using a brush and eyeshadow. And if you are like me, time spent in looking out for both the things adds on as well. :'D
I am Bhawna D, the creator of small virtual space called Think it over. Wherein I share with you tips and tricks that I learn about things relating to beauty, lifestyle, etc. And I scribble about random things too. At times the slight poetic side takes over and you end up seeing rhyming verses. Currently I am pursuing my post graduation in English Literature. I aspire to become a writer and poet. I love to experiment with makeup and it's not that I am pro in that, but merely learning along as the blog progresses. I love coffee. One thing which marks off as a similarity between me and Paulo Coelho- The Love of Peas!
 Until Next Time,
Take Care <3
---
---