Cinthol Deostick Swirl : Review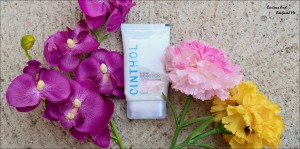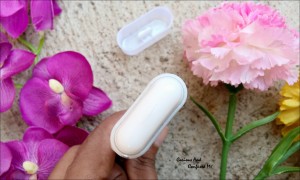 Hello All 🙂
This was random "Let me pop this item into the basket in the super market" purchase. I bought this even before the ads started coming on TV.
Cinthol Woman Deostick comes in 3 variants Aura, Spark and Swirl. I tested Aura and picked up Swirl!! By mistake!! AS usual!! Explanation some other time.
For now let's see how this fared with me.
Product Description: A deostick, lasts 3 times longer, Cream and not spray and gentle on the skin.
Price: 69INR for 40 gm
My experience with Cinthol Deostick:
Cinthol Deostick comes in tube, with the plastic tight cap. Practical packaging and light weight, makes it ideal to travel with or to keep it in handbag. It is a squeeze tube. That is, there is a nozzle at the mouth of the tube which dispenses the product out. This is where it gets a little tricky, because if you squeeze it hard butt load of product comes out, in one go. So squeeze it lightly as you drag it around the body. It has a fresh and refreshing fragrance. I really can't describe scents, but I would say all are good. The product is creamy and it is white in shade. As soon as you apply it, the product forms a white film but gets dried in few minutes. It has never stained clothes or made my under arm go darker. I always read reviews around before publishing a skin related product and I came across a review where they mentioned that it made their underarm go darker. However nobody has issues about this using on the body including me.
Now do this last longer as claimed? On me yeah whole day. If you immediately put on clothes after you apply this even clothes gets that scent, which lasts long. I specially love using this before I go for workouts, the fresh yet sharp scent of this doesn't let the sweat stench come out. You can even use this to fake a good bath. Not that I do that, you can scratch that thought from the head 😛 Also it dint irritate the skin, or made me scratch my nose.. Explanation some other time. It's indeed gentle.
Pro
Its extremely light on pocket, has good scent, Stayed long on me and can be easily carried around. Not staining on the clothes, No irritation to the skin.
Cons
Takes minutes to dry after the applications
Last words
All in all, a nice product. Will I buy again, I might as I really like it for pre workouts, the fresh scent and how handy it is . Also one major point: I don't faint after smelling this. Which happens when it comes to the gas based ones 😛 If you like Deo's do try it.
Have you tried this? Have you tried any Cinthol products?
Live life to The Fullest
XOXO
SB
---
---