Makeup Revolution London Pro Fix : Review
Hi Gorgeous 🙂
For a very long time I kept wondering where does my blush fly away . I mean I have the primer underneath and then it hit me..Oo I need the fixing spray or the finishing spray . That's how I ended with Makeup Revolution London Pro Fix .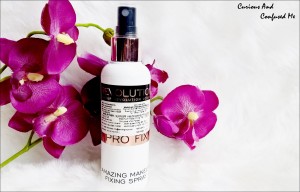 Price: 1000INR for 100ml or £5.00 ( I got it for about 700INR)
Ingredients: Aqua, Alcohol Denat., Propylene Glycol, Amp-Acrylates/Allyl Methacrylate Copolymer, Benzyl Alcohol, PEG-12 Dimethicone, Polysorbate 20, Polyacrylamide, PEG-40 Hydrogenated Castor Oil, C13-14 Isoparaffin, Dehydroacetic Acid, Tocopheryl Acetate, Laureth-7, Aloe Barbadensis Leaf Juice, Panthenol, Sorbitol, Retinyl Palmitate, Linseed Acid, Helianthus Annuus Seed Oil, Aesculus Hippocastanum Seed Extract, Sodium Benzoate, BHT
My experience with Makeup Revolution London Pro Fix spray : 
The pro Fix comes in a white Spray bottle, with the plastic cap. The spray mechanism works fantastic. The package is travel friendly but since it has alcohol present in it I did not carry and I would not carry something like this while travelling. The constant moving of the bag, the constant shaking of the product, I just don't like the idea of it. The product is colorless.
The smell needs a special mention not because it is Dreamy or exotic, it's because it is just pure alcohol scent. That stays for about 10-20 seconds. I have this bottle from about 4 months now and I feel the sharpness of the scent has gone down a bit. I am person who can faint even for the TBS nice smelling scents ( I have people who can confirm you that) So if I can take it anyone can 😛
After spraying this until the product dries by itself, the face will get that watery wet feel, but just be patient and let it dry on its own and let it do it's work.
Does it work? Oh Yes it does. It prolongs the makeup stay, it prolongs the Blush stay. I have an oily skin and I live in a humid place, so no blush stay more than 3 hours on me. But because of this spray the cheek products be it highlighter, bronzer, blush stays on for 6 hours. That too when I did not have a primer beneath. Most of the times I just spray it on my cheeks, just where the blush goes to get that flushed cheeks. Even when used it on the complete face, it prolongs the entire makeup time and takes away the powderiness if any.
Now don't mix this up with the primer, this product is for sealing the makeup and it does that work beautifully. It's not something which can control oil for a long time, but it does not make my skin oily on it's own. It has never broken me out. Never irritated my skin in any way. Just make sure that your hair is not coming in the way, it might get sticky.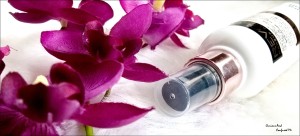 Pros:
Affordable, It prolongs the stay of the makeup, it seals the makeup, Fantastic leak proof packaging, easily available, did not make my skin oily.
Cons:
Smell, Smell and Smell. Sensitive skin girls please check the incidents before going ahead. Can make hair sticky.
Last words:
If you are someone like me who has been scratching their head thinking where does my blush fly away then this is the answer or if you are looking for makeup fixing spray check out this one. It's a must have. It seals the makeup and it's affordable. It kept my makeup intact in the most humid days in March/April, so you can see it's efficiency. I am extremely happy with the purchase. Recommend. 
Live Life To The Fullest
XOXO
SB
---
---