Colourpop Ultra Matte Liquid Lipstick in More Better : Review, swatch, LOTD
Hello All 🙂
Colorpop has taken the beauty world by storm, so the beauty addicts must know all about it. If you are new to this brand here is their official website Colourpop  and a heads up Ultra Matte Liquid Lipstick, are like totally popular. I have one of these called More Better and these Ultra Matte Liquid Lipstick have been raved, over raved been reviewed over and over again. So here I am raving and reviewing them again. 
Price: $6
I paid 700 for this. You can buy these from Instastores . Rates Usually varies from Store to store. Some of the stores are here: beautytales.in, shopyouraddiction,lachickwick.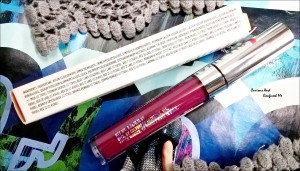 My experience with Colourpop Ultra Matte Liquid Lipstick:
Colorpop formulas have changed from their first release. The one I have is from their latest batch and honestly they are perfection. They come in Cute, practical yet Luxe packaging. With the Wand you can apply the liquid lipstick with ease. The consistency is liquidy and it spreads with ease. These liquid lipstick are opaque, so one coat and you are done. The liquid lipsticks sets into Powdery matte finish in no time, giving you that ultra matte finish. You won't feel them on lips and they look more like a tattoo on lips. They are that matte and pigmented. Performance wise they stay about 8-9 hours, after about 6 hours they do go off from the corners and center of the lips a little. That can be fixed. Prepping of the lips : Yes, you can't escape. But in any case they dont crack on the lips.
Though matte these are not uncomfortable on lips. I have heard it from the people who have used high-end Liquid lipsticks that these are far better formulas. So there you have it. The shades look lighter in tubes than on lips and look different on different skintones. But one will end up liking 2-3 colors I am sure, that gorgeous shades and that many choice.
The shade I have is called More Better. Deep violet wine, stole the description from their official website and that's what it is. It is extremely flattering on my Dusky skintone. It will suit all. This has been my cheat lipstick these days, all I need is this and a stroke of kajal and I am done, I don't need anything else on the face.
Pros:
Affordable, Long lasting, great unique shade, Great pigmentation, transferproof, Doesnot crack on the lips 
Cons
Little drying over the time, Needs prepping of the lips.
Last words
Long lasting, Affordable and not that uncomfortable on lips. I know we have shell out a little more extra to get hold of these in India but still these are worth a try. Will I buy more: They are on the way ha ha.
Last words: Try one to know what these are.
If you don't want to these, I have another good quality liquid lipstick under 700INR for you guys, review will be up soon.
Have you tried these? Do you have any product from Colourpop ?
Live LIfe To The Fullest
XOXO
SB
---
---