Fran Wilson Mood Matcher Lipstick Black : Review,LOTD
Hi All 🙂
I am a lipstick addict and if you have been reading the blog you know it. One more reason for my undying love is my pigmented lips, not having a bit of tint makes me conscious. That was the reason I picked up Fran Wilson Mood Matcher Lipstick in Black around 7 months ago.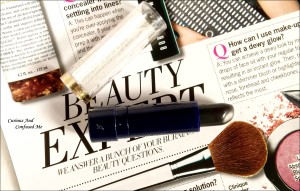 Price: 590INR or 4$ for 3.5gms ( I got it for 299 I think)
What does Fran Wilson say about the lipstick : Click here
Ingredients: Ricinus communis(castor) seed oil, Caprylic triglyceride, Petrolatum, Cetyl acetate, Acetylated lanolin alcohol, Lanoiin, Czokerite, Propylene glycol, Isopropyl lanolate, Aloe barbadensis leaf, Propylparaben, Propyl gallate, Tocopheryl acetate, Fragrance, Benzyl benzoate, Iso eugenol.
My exprieince withFran Wilson Mood Matcher Lipstick Black :
The shade of the lipstick is Black. Lol Just kidding. It's a mood matcher lipstick. Now God only knows whether its the Ingredients or the mood of the body or the temparature of it or the weather, the moment the lipstick touches the lips it starts as a pink tint and then turns into bright berry pink in no time. 2- 3swipes just intensifies the color. I usually swipe the lipstick twice, it usually ends up as a magenta/beetroot color on my lips.
The formula is thin and extremely light on the lips. It glides smoothly , changes color and gives a glossy watery shine to the lips. It isn't opaque, it wont hide the lips pigmentation completely but doesn't accentuate either. Even the pale pink tint is better than bare lips for me . The lipstick on its own is moisturizing, only after the munching and sipping lips feel dry at times, but the stain on lips remains.
It stays almost whole day and getting it off by the end of the end is not easy. If swiped just once it goes off, not easily but goes off. Since staining is what I intend to go for when I have long day, I am fine with that.
I have worn this under lipstick, under lip gloss, on its own, with lip liner on top and bottom. It performed brilliantly in anyway I have used. My favorite combination is 2 swipe of this+ 1 swipe of . Gives me Pretty magenta berry lips for long hours.
Packaging of Fran Wilson Mood Matcher Lipstick pretty basic. Black body with the transparent cap, so you get the peek of the lipstick. If you own more than one of this, it should be pretty easy to identify.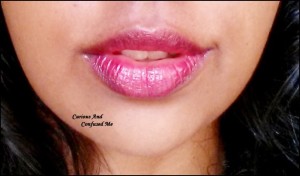 Whether it turns Magenta or Deep Raspberry or Beetroot tint on the lips but this guaranteed gives a gorgeous pink tint on the lips for long hours which sits comfortably on the lips with the glossy finish. The only con: removal at the end of the day. I want one more, the one which gives the Red tint. I do recommend this. Besides being fun lipstick it turned out to be boon for me. 
Ps: I am aware that you get color changing lipsticks in local brands at dirt cheap rates. But I have had some bad reaction to cheap lipsticks in the past.
What do you think about this? Do you own any of the Mood matcher lipstick?
Live Life to the Fullest
XOXO
SB 
---
---