Sugar It's A-pout Time! Vivid Lipstick – Coraline In The City: Review, swatche, LOTD
Hello Gorgeous 🙂
Sugar Cosmetics recently launched It's A-pout Time! Vivid Lipstick and I got the shade Coraline In The City in March Fabbag 2016.
Apart from the shade Coraline in the city I have, SUGAR It's A-Pout Time! Vivid Lipstick comes in three other shade: 01 The big bang berry (Wine) 02 Breaking Bare (Rose Pink) 03 Mad Magenta (Magenta) .
Now lets get into the review.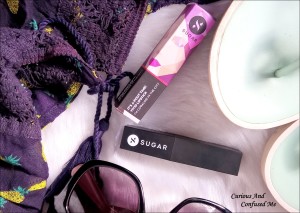 Price: 599INR for 3.5g
Product Description, Ingredients and Directions for use : Click here
My experience with SUGAR It's A-Pout Time! Vivid Lipstick Coraline In The City :
The Lipstick comes cardboard box, which I find artsy. Just like the Sugar Kajal I reviewed all of their product come in such funky cardboard. Now the lipstick case is matte, black and rectangular. Quite edgy and sleek at the same time. The shade name is written on the lipstick case. The lipstick bullet lies in the black barrel. From my experience these type of lipstick packaging is extremely travel friendly.
Sugar describes the shade as orange-coral and that's what exactly it is. It's bright and summery. On me it comes as a bright orange but then sometimes I can see the Coral undertones under sunlight.The pigmentation is good too. I need about 2- 3 swipes for it to pop on my dusky complexion, I believe the Fair-medium beauties can manage with 1 swipe as well. Does not accentuate the unevenness of lips. The formula is matte so naturally it's dry and need the lips to be exfoliated and moisturized.
But
It's a struggle to get that perfect velvety finish. It crumbles, gets patchy especially if it's swiped more. So after each layer I started patting my fingers on the lips to get that final finish. The lips don't feel the dryness, but due to the dry formula it sits in the fine line of the lips. Stays for about 5 hours but on me it fades by the hour, and starts getting patchy after about 3 hours. You get a light orange tint behind. All in all after the patting on the lips building up the formula it stays nicely for about 3 hours.
Then my curious, wandering brain thought, if the problem is with dry texture,lets bring some moisturize back to the lips.
Applied it on the moist lips and voila!! Pretty coral orange lips. This way the lipstick glides smoothly, and gives me bright lips with the sheen and I dint face any crumbling, settling into fine lines or the patchy finish. This way it stays put nicely for about 3-4 hours. Transfers and settles in fine line after a while though. But still!!
I am okay with the sheen, as I like it. But if you are looking for a complete flawless matte finish you will be disappointed.
Pretty shade, stays for 4 hours, affordable, matte finish but ends up giving the patchy finish if it is not applied with technique or on dry lips. I believe the other shades don't have the patchiness issue. Also these lippies are free from mineral oil and parabens.
I wanted another shade in it, but these days there are so many new launches, I don't seem to be going back to any range for another shade. Is it happening with you too?
Have you tried this lipstick or it's sisters? Tried any makeup from Sugar ?
Live Life To the Fullest
XOXO
SB
---
---