What I got in February 2016 Fabbag!!
Hi All 🙂
I received my Fabbag just 2 days ago and I was bored to do a post on it. I don't know I kind of loose interest when bag takes so much time to reach , even in the products as well as in doing a post.Anyhow after a long time I subscribed to bag last month. Fabbag is a Monthly beauty subscription box in India.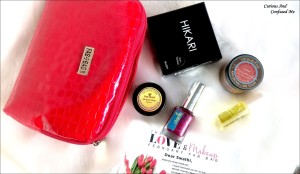 This is what I got in February 2016 Fabbag:
*Hikari Blush in Sunkissed (Rs 1000 full size) : Not happy with it. I haven't swatched it, but I have seen the swatches in fellow bloggers post. This wont show up on my skin tone. I am planning to give it away or have a small Instagram giveaway.
*Chamki Nail Polish (Rs 150 Full Size) : The shade is Magenta and name is Chudail ( Witch). Pretty Metallic shade, goes opaque in 2 coats.
*Just Herbs Marigold and Mango Lip Butter Balm (Rs 345 for 8gms ) : Paraben free, chemical free . It's good and very smooth.
*Nyassa Cane sugar body scrub (Sample Size) : Smells great. Haven't used it, I am going to read reviews around and if it's good keeping this for travels.
*Morocco oil ( Sample size ) : Never tried Morocco oil, nice to see this.
Has this impressed this me: No. If they would have read the questionnaire and sent the right shade of the blush, that would have been the star. I have allready sent a query regarding the cacellation of the subscription waiting for the reply. I am not going to return this, I am busy, I have work and I believe the Fabbag should have done the initial work.
Do I recommend this: Only if they allow you to choose the shade of the blush.
Also, since I am in the groove of the showing what I got in the Fabbag, here is what I got in January 2016:
*Votre Face Serum ( Rs. 1670/- for 12ml) : I have been using this, liking it so far.
*Natural Bath & Body Clay Mask – Rs. 450/- for 100ml : Sample size, haven't used it yet.
*Natural Bath & Body Whipped Cream – Rs. 275/- for 100ml : Extremely light weight, citrusy smelling body lotion, might go for the full size. I have a 15ml sample.
*B-Blunt Spotlight Hair Polish – Rs. 550/- for 150ml : I have the 30ml bottle. Not used it yet, soon I will.
*Sugar Cosmetics Matte As Hell Lip Crayon Poison Ivy : Main reason why I ended up with the bag. Wine colored chubby pencil. I love this.
What did you receive in this month's Fabbag? Has it impressed you?
Live Life to the Fullest
XOXO
SB
---
---