Fabbag March 2016 !!
Hi All 🙂
Happy Women's day 🙂 
Well,Well,Well. Look who is early. Fabbag in the house!!
So Fabbag is a monthly beauty subscription box.
Every month they have a theme and this month it is " Its more power to you"!!
Last month I did send them a query on cancellation but the refund amount is way less than what I paid, so I said chuck it and waited for the bag.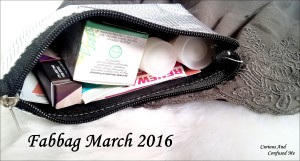 This month the pouch is in silver colour, I dint like it. Let's move onto the contents:
Sugar Cosmetics 'Its A Pout Time' Matte Vivid Lipstick in Coaline in the city: I had a hunch this will be in the Fabbag this month. Again not a shade I would have gone for. But yeah whatever. I calmed down after Mum said it's a nice change to your Magentas and purple, you can buy the latter in some other brand!! It's Dry and need 2 -3 swipes for the full pigmentation.
Price: 599 INR. (full size)
Wella professionals Elements Renewing Shampoo and Wella professionals Elements Renewing mask: I am excited for this. I have heard things about this and the sample size is plenty. May be I'll use it once and keep the rest for travelling purpose. I have gone Paraben free, natural road in the hair care. Even these are Paraben free products, so I am happy.
Price: Shampoo: 975 INR for 200 gm and Mask: 1050 INR for 150 gm ( I received a 30 ml sample of each)
Kronokare Cooling Explosion Lip Balm( 95INR): It's like a menthol blast for your lips for about 10 mins with good lip balm qualities. I wanted to try this.
Suganda Neem Green Tea Soothing Mask( 900INR for 60gms) : Heard good things about this. But it is in Powder form. Why God why… I have to make a paste!! In all that time I could have done something else. I don't like making a paste, that's why all the high drama, otherwise it's really good!!
Final words:
If you have been wanting to try the lipstick. Like any shade get this bag. Almost same price and consider the rest stuff like freebies.
But if you dont care about the rest of the stuff you say screw it and want a particular shade, get the lipstick.
But this time the goodies are really good and worth trying!!
Lesson learnt: Buy the bag after the reading the reviews and go for monthly subscription.
Live life to the Fullest
XOXO
SB
---
---