First Haul post of the year 2016 :)
Hello All 🙂
Hauls makes me happy. I dont care who's haul is it, they just make me happy. So heres a haul post, let me correct first haul post of the year 😀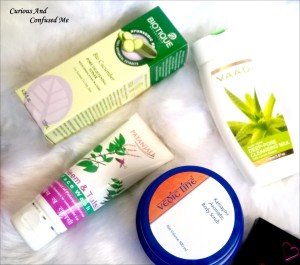 Patanjali Neem and Tulsi Facewash : Finally, got my hands on it. affordable good product but allways OOS.
Vedic Line Kamayini Aromatic Body Scrub : It has a wonderful scent of Sandal/turmeric. Used it once, very creamy..liked it so far.
I wanted to buy Aroma magic toner on the recommendation from Mariyam of The Midnight Beauties but that was OOS when I was placing the order, so I got Biotique Bio Cucumber Pore Tightening Freshner instead. My skin likes this and guess what, the Aroma magic toner came back in stock after I placed the order :/ . One more thing I bought on her recommnedation is: Vaadi Herbals Aloevera Deep Pore Cleansing Milk With Lemon Extract . Havenot used it yet. Has a very fresh scent though.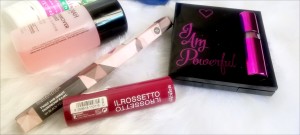 SUGAR Twist And Shout Fadeproof Kajal , Black Velvet : The Plum NaturStudio All-Day-Wear Kohl I am using currently is about to finish, I would have repurchased it and then I thought of giving this a try. Review here .
Makeup Revolution I Heart Makeup I Am Powerful: The first purchase of the year. Lovely eye shadows from Purple, Lilac hues, came across this when I was checking out the Chocolate eye shadow palettes. ( Review here )
Deborah Il Rossetto Lipstick  in 800 Natural Brown : The online order I placed was along with my teenage cousin, as someone had a coupon. This really dint please the teenager that placed the order. So she passed this me.The nail remover was free with it. So I said "That freebie goes to the one who has the lipstick" =)) .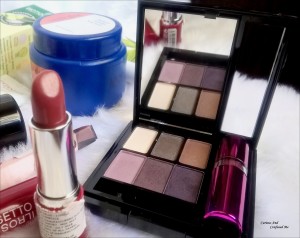 Not a major haul, but apart from the toner all things the are new for me, lets see how it fares. Wait for the reviews 🙂
So bought anything new? have you used any one of the products in these? 
Live life to the fullest
XOXO
SB
---
---