AloeVeda Skin Essentials White Lotus Luxury body Butter: Review
Hi All 🙂
Before I start: this is PR product. Since I have used Aloe veda products before, I did accept the PR. Some where good whereas others were Okay. So today I am reviving AloeVeda Skin Essentials Luxury body Butter in White Lotus. Let's get to the review.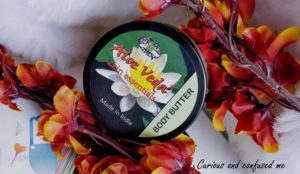 PRICE: 425 for 100 g
About the product:
According to the product "Nourishing and hydrating treatment, made with Shea Butter, Lotus essential oils, anti-oxidant rich ingredients, and other enriching natural emollients that nourish and pamper the skin, leaving it soft & supple."
Ingredients:
Aqua; Cold-pressed Coconut Oil ; Shea Butter ; Kokum Butter ; Mango Butter ; Stearic Acid ; Aloe Vera Leaf Extracts ; Glycerine ; Vitamin E ; Vitamin C ; Sweet Almond Oil ; Extra Virgin Olive Oil; Cocoa Butter; Avocado Oil, Wheatgerm Oil; Carbopol; Microcare ITO; White Lotus Essential Oil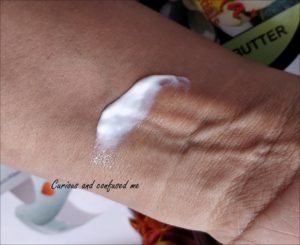 My experience with the AloeVeda Skin Essentials Luxury body Butter:
Body Butter comes in tub with the black screw cap. The product was sealed with the foil to ensure that product is unused and new. Body butter has a fragrance of very Waterlily/ Marigold kind. If you have ever used a product which contains Lotus you will know what I mean. Fragrance is not too much, but the scent stays on body for about 1-2 hour.
The product has very moussy whipped kind of texture. Not exactly like the TBS ones, but very fluffy kind. It is very white in color and looks like a curd in the tub haha. Though butter, it is very light to touch as well on the skin.  It is not greasy and gets sinked in the skin instantly, without leaving any white caste. Also it spreads Easily and evenly. Luxury body Butter hydrates and moisturizes the skin for about 10-12 hours.
I only feel the requirement to reapply after I take bath or wash my feet in between. Otherwise my dry desert like feet are satisfied. This should go well with all skin types, however body butters are best suited for Dry skin according to me.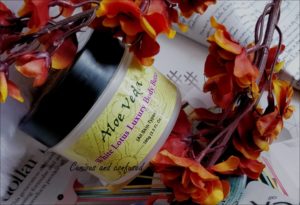 Summing up: 
AloeVeda Skin Essentials Luxury body Butter is affordable and efficient body butter which fulfills all the claims. It is one of those Paraben Free, Petroleum Free, cruelty-free and vegan products   If you are looking for body butter give this a try. Next time I think I will try its strawberry variant. Recommend.
Live Life To The Fullest
XOXO
SB
---
---