Maybelline Color Jolt Matte Intense Lip Paint in Vamp Red : Review,swatch
Hi All 🙂
Maybelline Color Jolt Matte Intense Lip Paint is one cutie lipstick I bought from counter. You know after all the swatching party. Fun it was 😀 Sadly they did not bring the shade I wanted but I am glad that they bought atleast the shade Vamp Red . If you have been following me in Instagram, you would know that I went to Mysore in the month of January and this is all I carried. So now lets head onto the review.
Price: 450 INR for 5ml
My thoughts on Maybelline Color Jolt Matte Intense Lip Paint Vamp Red:
Packaging : The lip paint comes in a tiny squeeze tube with the matte black cap. The Soft foam is attached to it, which helps in the precise application of the lipstick. The body of the lip paints are color coded so, its easy to locate them if you own more than one of these. The packaging is travel friendly.
Shade/pigmentation: Maybelline Color Jolt Matte Intense Lip Paint Vamp Red is a deep Red. On my dusky skin it doesn't come as deep as it looks on hand, but on fair to medium skin it will look deep. Beautiful shade nonetheless which can be worn as a stain or with full intensity . The pigmentation is mind blowing and it covers pigmented lips very well.
Texture/ Finish: The texture is creamy and it goes on lips smoothly too. It gives a matte finish to lips. Not liquid lipstick kind, but a good velvet matte finish.
Performance: Once it is on lips, it is light and comfy too. It doesn't settle in lip lines even at the end. Overall it stays for 7 hours including the light stain at the end of the wear time. It fades a little with the Meal and it is not completely transfer proof. Being matte, exfoliating lips would be good idea. The lipstick is neither drying nor moisturizing. Also it doesn't bleed out of the lips, being red it's a main point according to me.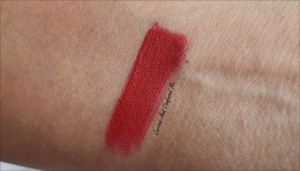 Maybelline Color Jolt Matte Intense Lip Paint is a long lasting lip product with the great pigmentation and having all the good qualities of the good lipstick. The only con I can think is that you have to scrub the lips and moisturize the lips to make the application perfect otherwise there isn't anything bad about this product.
If you fancy any shade in this range do try this out and I would call this shade Vamp red a must checkout shade. Recommend
Do you own any shade from this range? Do you like Red lipstick?
Live Life To The Fullest
XOXO
SB
---
---