Palmolive Body Butter Strawberry Fresh Exfoliating Body Wash Review
Hi All 🙂
Its been a while since I bought a shower gel.
Love for handmade soaps and ease of using them in my hectic schedule has made me reach out for soaps more.
But I wanted some exfoliating body wash which would do 2-1 job at the end of the day for that relaxing closure. So when I was searching in the alley of exfoliating boy wash/gels I bumped into Palmolive Body Butter Strawberry Fresh Exfoliating Body Wash and a vanilla flavor in this.
Since the Vanilla variant packaging was a little dented I picked up this and Adidas exfoliating shower gel.
I am pretty sure it's a new launch 😀 now lets get into the review.
Price: 190INR for 250ml
Product Description and Ingredients:
My Experience with Palmolive Body Butter Strawberry Fresh Exfoliating Body Wash:
The body wash comes in a transparent plastic with the red flip cap. I would say typical Palmolive body wash packaging. The details of the body wash are printed at the back of the bottle. The Body Butter Strawberry Fresh Exfoliating Body Wash is thick and creamy in nature. And it's Pink!! Since this is a exfoliating one it has Pink scrubby particles in it. The body wash feels very rich to touch and even on the skin it feels the same way. And the fraganance!! If you love strawberry scent you are just going to sniff the bottle for a very long time. It's that super refreshing. At times I feel like, I am taking bath in this thick straweberry smoothie 😛
The body wash lathers pretty well and deep cleanses the skin very well. The fragnance starts with strawberry then slightly breaks down to nutty sort of fragrance. I end up using this after the workout 90% of the time and it removes the sweat and sweat odor very well. The exfoliating particles are mild and it removes the dead skin, rough skin nicely. Its not a heavy duty exfoliating  stuff, I would say perfectly mild for daily use yet effective enough. After the 3-4 uses the skin feels super soft to touch too. The scent lingers for a while like 1-2 hours.
And since they have added the body butter to the mix too, it not only feels creamy to look and touch but also manages to moisturizes and hydrate the skin well. Extremely dry skinned beauties might not be able to skip the body lotion during the winter season. If you end up using more only then you might feel the stickiness.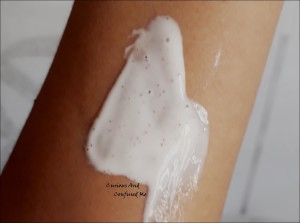 Pros
Practical packaging, Lovely strawberry fragrance( Think strawberry liquid mousse ), Cleans the skin well, exfoliates the skin, perfect for daily use,
Cons
Might feel sticky if a lot of bodywash it used. 
Last words:
Palmolive Body Butter Strawberry Fresh Exfoliating Body Wash is something which is giving me relaxing time at the end to the day. This thick creamy strawberry goodness is nothing but delight to use.
If you are into citrusy, fresh deodrant like fragrance you can skip this. If you are fruity flavor lover, thick body wash lover or a strawberry scent lover you can not miss this. Me recommends
Have you tried this? Has this body butter body wash intrigued you enough?
Live Life To The Fullest
XOXO
SB
---
---