Blue heaven Non transfer lip color Raspberry Love 03 : Review, swatch
Hi All 🙂 
Dad : More tube lipsticks are coming home these days!! 
when dad's notice your obsession you have an obsession lol
True!! Isn't it? 😛 
So when Blue heaven launched Non transfer lip color I had to get one. I have tested it enough lets head onto the review.  The shade I have is called Raspberry Love 03
What Blue heaven says about the product: Waterproof Formula, Long Lasting Stay Upto 8 Hours, Entiching Finish, Smudge Proof Formula,Available in various shades, Intense and rich lip color with matte finish, Easy to apply & remove.
Ingridients: Cyclopentasiloxane, Trimethylsiloxysilicate, Polyethylene, Silica, Mica & Approved Colors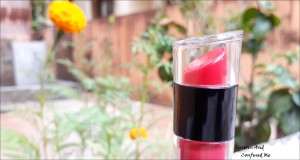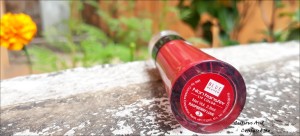 My experience with Blue heaven Non transfer lip color : 
Packaging: Its Tiny 😛 The Tube is made out of plastic and the transparent cap has a lipstick bullet like design inside it. The tube is transparent; the sticker at the bottom has the name on it and indicates the shade as well. The Applicator is doe foot applicator and picks up the right amount of product. Though the applicator is not that long, it helps in precise application.
Shade : As the name says Raspberry love it is Raspberry Pink shade. It resembles that of MNY gradation or the Miss Claire lip cream in 35. I am not saying they are exact dupes but in the end they are pretty similar. This will suit every skin tone out there.
Texture: The lipcolor is very creamy and it goes on creamy on the lips. It sets into perfect matte finish in about 2-3 minutes. The pigmentation is insane; one swipe is all you need. The lipstick shade pops.
Performance: Once set into perfect matte finish the lipcolor overall stays for about 6+ hours. Initially when I opened the packaging for the first time, it had a strong scent. Something which I relate to this Men's hair gel product. But with time I don't detect that anymore in the tube as well as on the lips. So one has to bear that the first 3-4 times. It does survive snacks munching, tea/coffee sipping but if you keep doing that the lipcolor fades within 4-5 hours. And if you lunch is oily then say tata bye bye the lipcolor on the lower lips. This is quite common when it comes to liquid lipcolor. It does leave a little pink tint behind and gets off easily with the oil based makeup remover. Just as they have mentioned in the description it doesnot smudge and it is 90% transfer proof. Also it is waterproof.
Being a matte lipstick you have to prep your lips. I wouldnot call this extremely drying but after about 4 hours the lips feel dry if they have not been moisturized thoroughly.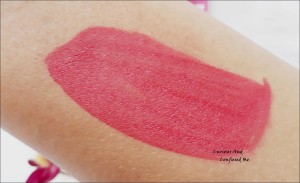 Price: 205 INR
Pros:
Affordable, Creamy texture that sets into matte finish, stays 5-6 hours, Smudgeproof, waterproof, 90% transferproof.
Cons:
The initial strong scent, Availability as of now, Need prepping of lips
Last words:
Overall Blue heaven Non transfer lip color Raspberry Love gives a fantastic performance for the price it comes in. Blue heaven says 8 hours and it stays 6 hours which is commendable. It almost fulfils all the claims made by the company. Availability for now is an issue; I got this from their official website. Get it if you are a
Liquid lipstick fanatic likes me or if a shade catches your fancy. Recommend.
Live Life To The Fullest
XOXO
SB
---
---