Aviance Hydra Balance Moisture Infused Advanced Serum review
Hello All 🙂
When it comes to skincare I always pick up products after reading tons of reviews. Some work, some don't; after all skin is a psycho lol . This is the first time I picked up a serum not reading the review around. The brand is new, the claims were good and name hydra kinda caught my attention. So after using this for more than a month here is the review of Aviance Hydra Balance Moisture Infused Advanced Serum.
Price: 1099INR 50 ml
Product Description : This life-giving hydration results in dewy, luminous skin. Bio-energized moisture-infusing complexes extracted from jojoba, almond, kiwi, wheat germ, cucumber, green tea, aloe vera and Vitamin C penetrate deep into the skin to infuse hydration, revealing its inherent luminosity.Weightless in texture and enriched with bio-energized plant extracts of this face serum is instantly absorbed to hydrate, plump, brighten and rejuvenate skin suppleness.removes dullness from skin.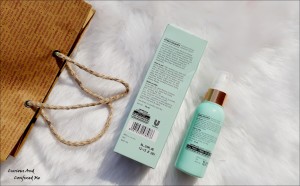 My experience with Aviance Hydra Balance Moisture Infused Advanced Serum:
Packaging: The cutest bottle in my vanity and cutest bottle I have owned till now. It's a mint coloured bottle, made of good quality plastic. It's very sturdy and very light. The cap is transparent and comes in a pump dispenser packaging. Though the amount that come out can't be controlled, but 2 pumps pumps out enough product for face and neck, in other words perfect amount for 1 time use.
Texture/Scent/Color : It has the name hydra attached to it, the ingredient has water and it feels like one too. The texture is very light and its on watery side. Though it has white colour, once it touches the skin its almost like water and sinks in right away without leaving any tint/residue behind. It has a pleasant mild fragrance. By reading the skincare products reviews around, one thing I can tell you fragrance in skincare items milder the better.
Performance: Two pumps gives enough for one usage, 3 pumps will be a little too much. Once we apply the serum on the skin and tap/massage it, it feels watery for 4-5 seconds and then it sinks in no time. That watery feel is actually feels refreshing on the skin. It sinks in the skin leaving a matte skin behind and its very light on the skin. It needs a moisturizer to be followed with be it night or day during the winter.
After I started using this, I woke up with the well hydrated soft skin the next morning, in the next 2-3 days I saw brightening effect on the skin. After around 2-2.5 weeks I saw a pimple mark fading . So after the 4 week of usage the bigger mark has not completely faded, but a pimple mark of dot size has vanished almost 90%. From the day 1 it has fought dullness of the skin and made it healthier. And no breakouts or bump on the skin.
Pros:
Cute Mint travel friendly bottle, Light texture, light on skin, Dint break me out, Does not make skin oily, Sinks in skin leaving a matte finish, Gives a healthy glowy soft supple skin and bright skin, removes dullness, Din't break me out.
Cons:
Takes time to show impact on pimple marks/blemishes, moisturizer is needed for the upper skin, pricey
Last words:
I quite enjoy using Aviance Hydra Balance Moisture Infused Advanced Serum and I would buy this again to use it in the morning. Since it is light on the skin, it does not make my skin oily post using moisturizer, sunscreen on the top of this. This fights dullness of the skin, like a pro. Even after the entire day under the skin, exposure to dirt in recent trip, the skin still remained glowy. Though pricey, it's on off most of the times .Apart from a little slow action on the pimple mark and not much suitable for dry skin, this is one wonderful serum. The ingredient list is impressive and it's a serum for Anti ageing, brightening, to fight the dullness of the skin and protect it against damage . Do try this if it fits your bill, you never know which s Also I might try other products from this range.
                                Which serum are using right now? Tried anything from this Aviance?
Live Life To The Fullest
XOXO
SB
---
---