VLCC Pedicure Manicure Hand and Foot Care Kit : Review
Hi All 🙂 
I am not a parlor fan, pedicure/manicure isn't my thing. I don't even go there. But I use scrubs and moisturize my feet regularly for foot care. Same goes for hands as well.
The only authentic foot scrub I used is Spa Ceylon Green Mint Foot scrub one and when I require I use my DIY scrub method for foot and nail care.
This was sent by VLCC, so I tried it and here is the review.
Price: 475 INR for 150g and 60ml
VLCC Pedicure Manicure Hand and Foot Care Kit has 5 steps:
1.Pediglow Hand & Foot Cleanser
2.Cuticle Oil
3.Pediglow Hand & Foot Scrub
4.Cocoa Butter Hand & Foot Cream
5.Orange Anti Tan Pack
Packaging: Except the Cuticle Oil rest of them come in a convenient flip cap tube type packaging. Cuticle oil has a long neck and tip of it needs to be cut, so that oil can come out drop by drop.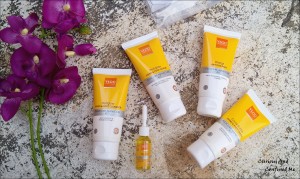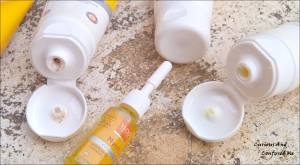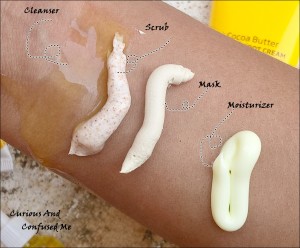 Before I share my experience with you all, let me tell you that rebelled and dint used the products in the mentioned order. And I will review them in the order I have used them. And you will agree with me 😛
Step 1 : Pediglow Hand & Foot Cleanser
The orange/yellow Cleanser has a flowy consistency; I believe you can see that in the pictures as well. A it refused to pose 😛 Anyhoo the cleanser has lemongrass smell which is refreshing. I usually mix this cleanser with warm water and soak my feet for about 10-15 minutes. You can even add a drop of your essential oil to the water. Once done I get a squeaky, deep cleansed happy feet.
Step 2 : Pediglow Hand & Foot Scrub:
The scrub is creamy, has scrubby particles which effectively scrubs away the rough skin, dead cells and leaves a fresh looking, soft skin. The scrub is off cream in colour and has refreshing scent. It reminds me of the ever youth walnut scrub.
Step 3 : Orange Anti Tan Pack:
Another creamy thing in the kit but this one has thick texture, something like a mud mask. This spreads quite easily and dries in about 10-15 minutes. This does remove the fresh tan and lighten the skin, I mean the tan one acquires due to exposure to sun. It is like a mud pack, it dries completely and leaves a skin bit dry.
Step 4: Cocoa Butter Hand & Foot Cream
The Cocoa Butter Hand & Foot Cream is yellowish in shade and smells great. A little citrusy. The cream is buttery creamy in nature and gets absorbed by hands and feet in jiffy. It is very moisturizing and the moisturizing effects lasts upto 7 hours. I actually applied this at 12 pm sharp and kept looking at clock like maniac =))
Step 5:Myrrh Cuticle Oil:
The oil comes in the bottle which is convenient to apply to cuticles. After applying I massaged it for 10 minutes. It has a lemon grass scent as well and yellow in colour. It does its job very nicely and gives a shiny nails.
Final Words 
Is this kit miraculous? Not really.
Does it give self pamper happiness? Oh Yes!! definitely!!
Beside using the entire set, step by step I have been using this individually as an when required too.
Using the cleanser on odd occasion to, popping the cuticle oil to my dad's feet and making him go "What's happening?" to scrubbing it when feet needed to, carrying the moisturizer individually in the bag, I have done it all. And sometimes I have just scrubbed my feet and moisturized my feet. So this is one value product.
Recommend? Yeah. Not a must try but a pamper product.
Have you used this? Are you a parlour type of girl?
Lie Life To The Fullest
XOXO
SB
*PR sample 
---
---