Fashion mia : For cute and chic winter wear
Hello munchkins 🙂
Winter. My favorite time of the year.
Chill in the air, festivities/celebrations around, smell of hot chocolate..
Not to mention the makeup stays intact for long hours and don't forget the cute sweaters.
For winters sweaters are staple. And now days it need not be in the solid mono colors with buttons in front. You know those solid green, solid red types which we is like a common sight during winters. I am not saying that those don't look good I am just saying that we get a lot of options/varieties now.
Fashion Mia is one such clothing store who offers a lot of varieties in winter wears, fashion outerwear etc etc. FashionMia is an online shop of women's clothing who brings out cloth at affordable rate and in modern designs of high quality, which in turn will boost a women's confidence. I love their motto, "Every women has a right to dress well " . ^_^
Like I was saying the sweaters need not be just solid colors anymore. Some of the sweaters offered by Fashion Mia have a lace detailing, different patterns, prints on them, stripes/plaids, basically every designs for us girls. You can pair the sweaters with the Jeans, skirts or even on leather pants with heels. Head turner combination it is 😉 If you are a sweater lover you would have a hard time choosing the sweaters offered by Fashion Mia. I have listed some of my picks listed down; visit here for more cute sweaters.
Personally I am fan of structured jackets. I do like the slouchy asymmetrical jackets, but on others. For me a structured outerwear, a solid shirt and a matching jeans/trousers screams sophistication. I usually pick the neutral colors like Black, Beige, Grey ones so that I can pair them with them with everything. I feel the neutral fashion outerwear are a must have for women's wadrobe. But if you a color lover when it comes to jacket just go for it. You can get the plaid ones too . One can just wear a basic plain Jeans and top underneath the jacket and make it look chic in no time. Again . I have listed some of my picks listed down; visit here for more fashion outerwear.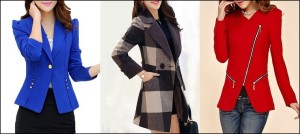 On a product page if you click on any product, you will be able to see them in every angle. Besides that, the Specifications, reviews from the customers, shipping details will be listed there. One of the feature in Specifications which I liked was along with the weight, material , neck details , the occasion on which the jacket can be worn, is also listed there.
FashionMia accepts payments through Paypal, credit card, debit card, or bank account balance. With the worldwide shipping they even have customer support available 24/7. You can contact them anytime for any of your queries or just visit the FAQ page on the website.
Do check out FashionMia for the Cute sweaters and the jackets.
So you a winter person? You a winter wear lover?
Live Life To The Fullest
XOXO
SB
*Sponsored Post 
---
---