Maybelline The Magnum Barbie Mascara: Review, EOTD
Hello All 🙂
When you have only 10 minutes to catch that connected flight:
What does normal people do : Goes directly to the catch the flight
What does Swathi do : Goes to maybelline counter with the exact money in hand and buys that new launch 😛
What does parents do : They just sigh!! They are used to it =)) 
Maybelline The Magnum Barbie Mascara came out when I went to shimla trip in April, my hands were itching and I bought this in airport. I talk way too much about shimla trip isn't it? like I am promoting place or something. lol  .Lets go onto the review.
Price : 399 INR for 9.2ml
What does MNY say: Give your lashes the million bucks effect with the fluffiest volume and longest length this season with the Magnum Barbie Mascara.It has two different lenghts of fibers to create the most natural fluffy lashes with the most extreme length. It's waterproof and weightless.
My thoughts on this Mascara: 
The packaging is like barbie in tube..lol . What else to say when the Cap is Metallic Pink color and body color is Yellow. Very bright, girly and cute. The first time when I opened the Mascara, I was welcomed with the same old strong chemical scent, which now has subsided. The Shade is black and it's intense jet black. The formula is thick and dries fast. I find the Maybelline falsies formula lighter than this, even at its later stage. The curved wand resembles to that of the Maybeline Falsies, but doesn't work like one. Strange. I know I have been comparing it with MNY Falsis a lot, but hey MNY started it 😛
The wand successfully coats lashes well and gives my non existence lashes a good curl, length and bit volume. From 2nd coat onwards, its starts to clump. Honestly my lashes are happy with 1 coat itself. I haven't seen it smudging around the eyes, it sits pretty the whole day. Since its waterproof Mascara getting it off is no less than a battle. around 3-4 lashes have been scarified already. It needs a good oil based makeup remover to remove it from lashes completely.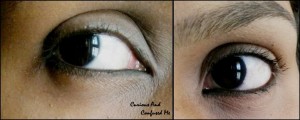 Pros :
Affordable, Gives Bit volume and length, Gives curl to lashes, Waterproof, No smudging.
Cons :
Taking it off from the lash is difficult ( Needs a good oil based remover) , clumps from 2nd coat, no Barbie effect to the lashes.
Last words: 
My poor lashes took this Mascara well. But Is it something new? Not really. I have used almost all the Mascara of the MNY and I don't find Maybelline The Magnum Barbie Mascara unique, the only relief is that it doesn't cost a bomb. Even the Volume express Mascara which is priced less than this does the same job.  I will stick to MNY Falsies and I have bought a new one already, my lashes seriously love it. If you skip this and go for some other MNY Mascara, you wont miss out on anything. 
Have you used this? Which is favorite Mascara ?
Live Life To The Fulllest
XOXO
SB
---
---