Blue Heaven Line & Design Sketch Eyeliner : Review, swatch, EOTD
Hello Gorgeous 🙂
If you have seen my haul post, you might have seen this and read already that how a girl ( Hello Miss S ) having Urban Decay and Chanel as HG's, has good things to say about this. Naturally I was intrigued and I wanted one eyeliner as all the once I have dried without me knowing =)) So let's get onto the review of Blue Heaven Line & Design Sketch Eyeliner .
About Blue Heaven Line & Design Sketch Eyeliner:
This new-gen advanced eye writer pen delivers high color precision line around your eyes. Its fine felt tip applicator gives exact color which dries quickly and won't smudge or fade. Its water proof formula stays for longer.
BLUE HEAVEN is an Indian cosmetics brand which is present in Indian scene from forever, but since they revamped range around 2 years ago (?), you can see them in ads
now a days.
Price: 205INR($3) for 1ml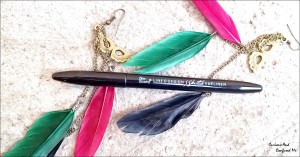 My thoughts on this eyeliner:
The eyeliner came in a Green cardboard packaging. The sketch liner is black in color and has a cap, you know the typical. It has very fine tip, you have to slant the pen to get the product on the eyes. The eyeliner is very well pigmented and has a semi matte finish. It dries very quickly too. I find it quite easy to draw a precise line, whether its thin touching the lashes, or dramatic winged eyeliner or accidental two direction facing winged eyeliner 😛
Performance: The eyeliner claims to be smudge proof, waterproof and long lasting. Surprisingly it fulfills all of the claims. On its own it stays about 6-7 hours and only after about 5 hours I see the wings flying I mean disappearing. I have this habit of tight-lining my eyes; one day the tight-lining went a little overboard and there was prominent Kajal near the upper lash line. When I applied this on the top of it, the eyeliner stayed like 10 hours :O On its own it is smudge proof Until and unless
you vigorously rub your eyes. It is waterproof, again unless you touch the liner when it is drenched in the water.
Bottom line of this eyeliner is, you don't touch it, it does not move. But make sure to let it dry completely. Only thing I don't know is, whether it smudges or transfers to your crease if you have hooded eyes 🙁 Apart from that it has never irritated my eyes.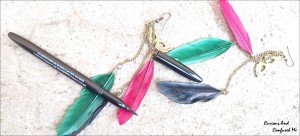 Pros:
Affordable, Fine tip, Easy to create a precise line, smudge proof, waterproof, Long-lasting, Does not irritate eyes, dries fast, jet black
Cons:
Are you kidding me? None!!
And I'll tell you all why? I have used pen eyeliners which have double /triple the price of Blue Heaven Line & Design Sketch Eyeliner. And this has given me better
performance. Beginner or no beginner if you want pen eyeliner, consider this or better give this a shot. Recommend.
Have you used this? Do you like finding a good quality budget product to your expensive ones?
Live Life To The Fullest
XOXO
SB
---
---