Colorbar Deep Matte Lip Creme Deep Lily 002 : Review, swatch, LOTD
Hello All 🙂
You all know right how this came in my life? If not read about it here!!
You don't care? Lets jump into the review.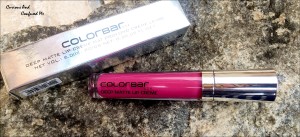 Price- 675INR for 6ml
Product Description: An ultra-silky, virtually weightless texture that unveils unexpected moussy finish with impeccable high pigmentation color for high coverage effect.These innovative combinations of ingredients give the formula special gliding consistency to coat lips with deep colors that have a matte, yet intensely bright effect.
My experiencing with Colorbar Deep Matte Lip Creme Deep Lily 002 :
Packaging: The packaging is simple but pretty! Transparent, chubby tube with silver cap. The applicator is good and picks up right amount of product to color the lips in one go. The bum has shade name and the expiration date.
Shade: Deep Lily is Fuchsia pink shade leans towards Warm. Bright and brightens up the face immediately and it will suit everybody. One can wear it as a stain as well.
Consistency/texture: The Matte Lip Cremes have thick consistency, but smooth and spreads really nicely.
Pigmentation: It's bangon and one swipe is enough .It covers the lip pigmentation very nicely, in a swipe itself .
Finish: It sets into the semi matte finish after a while. Since the finish it creamy it transfers a little. Now dont mistake this for the liquid lipsticks which we get now a days which sets into powder matte, these are not that.
Performance: It stays 4-5 hours intact and then manages to fade evenly leaving a tint. Though creamy finish, after the meal about 50% shade was present on the lips. Good isn't it?. It doesn't bleed, doesn't dry the lips. After about 5-6 hours, after lunch one will feel a little dryness that's all.
I love liquid cream lipsticks. As they are nondrying, forgiving on lips, no need of lipliners, no need to prep lips, no need to moisturize and gives a sheen to lips. This worked exactly like that. I loved it and the shade. I have too many lipstick range to catch up to , so I wont be buying more.
If you love creamy lipsticks, liquid cream lipsticks it's a must try. For the rest do check this range if you are okay with the price, these are good comfortable lipsticks around.
Have you tried this? Do you like liquid creamy lipstick?
Live Life To The Fullest
XOXO
SB
---
---