Chambor Extreme Wear Transferproof liquid Lipstick in 435 : Review,swatch,LOTD
Hi All 🙂
Liquid lipsticks are in rage right now. Even though I am not much into powder mattes and or matte finish in general , the whole trend got sucked me into it.
Chambor is the latest one to launch these liquid lipsticks .
 I had eyes on the Reds and that's what I got.
So, Lets get into the review.
Price:845 INR 6gm
Shade I have is: 435.
Product Description: A long-lasting transfer proof liquid lipstick with a smooth sensorial feel and a creamy matte finish. Its extreme matte coverage provides a deep intense color in just one stroke.
My Experience with Chambor Extreme Wear 435 Transferproof Liquid Lipstick:
The packaging is simple, functional and to the point. The transparent body will help you locate the shades incase you own many, since they have not been given names * Why O Why * . The tube is flat and rectangular. The wand is perfect for my bee stung lips, application is easy with that.
If you have used Chambor lippies in the past, you might know that they usually have this coconut scent to them. Whereas this has mild soothing scent to it. Score!!!
The shade I have is Brickish red. It reminds me of L'Oreal Pure Rouge . It is one of those shades which will brighten up your face, whether you have full face makeup on or not. I am pretty sure it is going to suit everybody but if you belong to Medium, Dusky or deeper skin tone you are gonna like this and Rock this. It looks bright Red in indoors, brick red outdoors.
The lipstick is extremely pigmented and covers lip discoloration extremely well. Makes them look even. The texture is extremely smooth, it's lightweight and it feels like nothing on lips.
It takes a minute to set; you have plenty of time for precise application. Once it sets, it's matte, smudge proof, does not budge, transfer proof and long wearing. Does not emphasize lip lines, doesn't crack on the lips.  Only after I ate a heavy oily food, the center lower lip lost a little shade. You can touch up and it wont cake on. It did not feel that drying, after about 5+ hours I felt a little dry. I mean it's okay. It doesn't leave a tint behind.
How to apply the liquid lipstick: Before applying the matte lipstick, moisturization and exfoliation is a must. Outline the lips with the lipliner first, then it's easy to fill in the lips.
How to remove liquid lipstick? : If you Google this question ( I have) you will get this answer. Just apply the Vaseline let it sit for good 5 minutes; wipe it off with the cotton or gentle cloth. Follow up with the lip balm if necessary.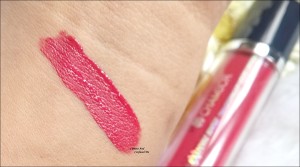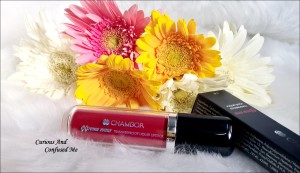 Though 18 shades, this range misses some those Corals and some fun colors, it's more neutral range. Some looked like Kylie Jenner shades in tube and one goth shade. I was too busy deciding between The red and brickish brown shade, to even swatch some.
Pros:
Long lasting, matte finish, Great shade, Easy to apply, Light texture, Sturdy packaging, transfer-proof
Cons:
Expensive, Little drying
Last Words: 
It's really worth the money. You want it you buy it. End of story. I am impressed by the formula, I think I will buy one more of it some time later. Chambor Extreme Wear Transferproof liquid Lipstick are longwearing liquid lipstick is a longwearing lipsticks, which sets into matte finish and doesnot budge, smudge, transfer or crack on the lips.  If you are looking for a long wearing liquid lipstick in a neutral shade this range is must have. Do check this range out.
They should have named these. Just yesterday when somebody asked about the shade " I said I have shade number 435 on lips " -_- . I just hope there isn't any shade
which is numbered as 420 😐 Now I know why most hate numbers!!! 
What do you think about this? Have you checked this range out?
Live Life To The Fullest
XOXO
SB
---
---