Ponds Light Moisturizer review !
Hi All 🙂
When Pond's Light Moisturizer was launched just like any other new launches these days, it was hyped by some influensers. Well I wasn't bothered by it, but the claims and the packaging made me buy this.
Lets head onto the review it.
Price: 115INR for 75ml
Pond's Light Moisturizer Ingredients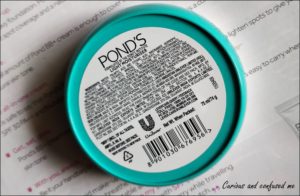 My thoughts on Pond's Light Moisturiser:
This Light Moisturizer comes in a travel friendly plastic tub, with the white cap. Cute!! The cream inside is protected by foil, which gets ripped in parts but okay, can be managed. The cream is white in color and as the name says it looks, feels and is very light.
I have oily skin and though watery formula makes my skin oily at times, it does keeps it supple. Now this cream gets absorbed by the skin, but skin never feels dry or matte. There is always a sheen on the face, like I have rubbed water on face. Also though light to touch, It never feelt light on the skin. It rather felt heavy on skin and even when I wore my Plum matte Day cream with SPF 50 on top of it , I could feel the heaviness of this on the skin.
It is not one of those moisturizer, where you can apply the cream and apply some powder and call it a day. It doesn't have any coverage, it is one of those creams which sinks in your face. It's  sole purpose is to moisturize and hydrate your skin.
Did it hydrate? It did. It moisturized too, skin did feel soft, plump and supple.
But its too much for my oily skin. I have ended up with the big spot on my chin and two ready to pop zits on the forehead. Also, it resulted in the bumps on the skin. This reminds in the old school Ponds winter cream for me. Those never worked for me either. For dry skin, it doesn't  hydrate it for 24 hour or so. On normal skin, again it was a bit sheeny.
Summing it up: Pond's Light Moisturizer dint work for me may be the Ingredients or the formula, it just doesn't work for me. Read the Ingredients carefully if something doesn't suit you, don't buy this.  Also if you never liked Ponds winter creams, dont bother buying this.
Planning to buy this?
Live life to the Fullest
XOXO
SB
---
---