LovelyBeards.com : For beard care products
Hello All 🙂
Today's post is a little bit different or I would it's about the Dude's. Well Women's fashion change with season, sorry it changes with wind eheheh. We buy one thing and then that's gone out of fashion. In that I guess the Men's fashion, I mean the styles at least the classic styles seems to be bit constant. Okay not bit It is constant 😛 One of the latest fad among the Gentle man is Beard. Not just with celebrities, or sports person, I see Men sporting beard everywhere, Gym, friends, the colleagues. Yup that covers all. Though initially I was not a fan of it, but I agree that the well groomed beard has a charm on its own. Now one might say why grooming and all. It's a beard and it will grow. Well let me tell you as much as styling beard is important, maintaining the hygiene and not to forget taking care is equally important. In other words You own it so you have to take care of it 😛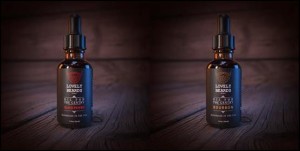 Some of the tips to groom the Beard are: Wash the beard just like how you wash your hair. Shampoo it, condition it, once it is dry you can use beard care products and use a comb to remove the tangles. One can even use oils and balm to improve the texture of the beard. Something like Lovely Beards offers. The beard oils and Beard Balms they offer will help in taming and conditioning the facial hair. And the best part of this is that, the beard oil is made 100% Organic Oils and Essential Oils where as the Beard Balm 100% Organic Shea Butter and Natural Ingredients. Their products are Handmade in the USA and the Ingredients Include: Organic Shea Butter, Beeswax, Almond Oil, Coconut Oil, Aloe Vera Gel, Vitamin E and Essential Oils. So it is safe and gentle for all the skin types.
LovelyBeards.com is website that specializes in selling the beard care products. So men for all your beard grooming needs you have a place which is dedicated only for you. The product information, the shipping details and details of the other variants of the product are in the website itself. And ladies you can gift your special person or friend who is beard enthusiast a beard grooming kit by them, where the balms and oils come in a special pack. This makes one classy gift for the classy ones. Always remember as much as style is important, grooming is important part of it too. Give this website a try.
Will you gift this to someone? Do you like the beard style in men?
Live LIfe To The Fullest
XOXO
SB
*Sponsored post
---
---