Blue Nectar Shubhr Radiance Honey Face Cleanser Review
Hi All 🙂
I have been sent Blue Nectar Shubhr Radiance Honey Face Cleanser a while ago and I have been using this ever since. Today I will be reviewing the same.
Blue Nectar beauty brand is launched by a wellness day spa company 'Blue Terra Spa'. They offer skincare products which are ayurvedic. You can learn more about them here: Blue nectar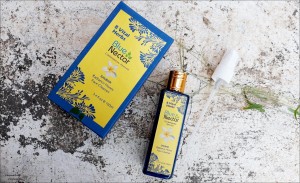 Price: 395 INR for 100 Ml
Product description, ingredients : Every product contains vital herbs like Cinnamon, Turmeric, Shatavari, Bala, Laksha, Harad, Baheda, etc., that offer goodness and benefits for body and mind. Shubhr means radiant. Face is the most attractive feature of human body. First step in Ayurvedic face care is to cleanse, tone and nourish the skin. Proper cleansing and toning is done by removing dead cells, clearing clogged pores, removing toxins & pollutants without stripping the skin of natural oils and moisture content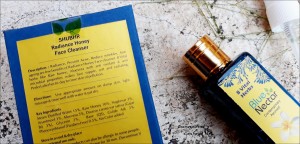 My experience with Blue Nectar Shubhr Radiance Honey Face Cleanser:
The cleanser comes in a Blue transparent plastic bottle with the pump dispenser. Anything Pump packaging makes it instantly cool and convenient. Initially when I opened the packaging, the pump dispenser came separately and the bottle has a screw cap on. Clever idea to avoid the spillage. Plus it's cool you know 😛 The Radiance Honey Face Cleanser is in the gel form and it's clear. Looks almost like Honey (Everything looks like honey for me lol ) Anyhoo the cleanser has floral fragrance which is really refreshing.
Blue Nectar Shubhr Radiance Honey face cleanser is enriched with 8 vital herbs like raw honey, nagkesar, anantmool, aloe vera, gajar beej, gulab ark, vanilla and lemon. And that becomes very apparent once I use it is on the face. It spreads very well and lathers in a required amount when it comes in contact with water and gets washed off easily too. No sticky or slimy feeling. It removes the oil, dirt and light makeup from the face leaving the skin refreshed, bright, supple and soft adding a mild glow without making the skin dry. Just enough moisture for oily skin. So I am guessing this wont suit dry skin.
I dont really use cleanser more than 2 times a day but when I have to, I have been using this ever since I got this without any worry, since it is 100% ayurvedic product. I have-not seen skin getting irritated or getting dry even after using this 3 times. I have oily skin with pimple/bumps problem and this has not caused any breakouts. This hasnot irritated my skin either. About the fine lines and wrinkles, I don't have any and I don't really think a cleanser can make a difference to it.
Since this deep cleanses the skin I havenot seen any pimple happening due to pollution. And after I started using this I have had a long day in a dusty road.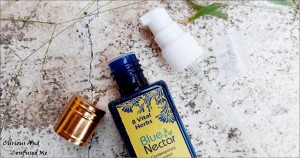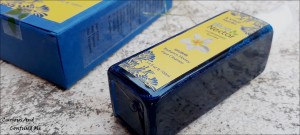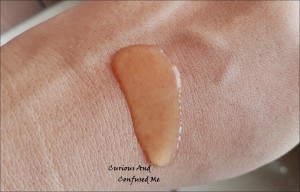 Pros:
100% ayurvedic product, Effective cleanser, Great packaging, One bottle will last long, Did not irritate the skin, Removes light makeup, Leaves a mild glow on the face.
Cons:
Might be expensive for some, Not for dry skin beauties, available only online, only key ingridients are mentioned.
Last words:
Overall I love using this and how it works on my skin. Blue Nectar Shubhr Radiance Honey Face Cleanser removes impurities of the skin without drying out the oily skin, or irritating it. If you aren't particular about 100% ayurvedic ingredients or not really happy about the price tag you can skip this. As well as the dry skin girls.
But if you like Ayurvedic product like this one and if price tag is not any issue. I would say give it a go.
Where to buy their products : You can buy from thier website itself, purplle.com and they do have some stores in Delhi, Ghaziabad, Noida and Andheri
Have you tried anything from this Brand? Which Face wash are you using currently?
Live Life To The Fullest
XOXO
SB
*PR sample 
---
---