TBC Natural Vitamin-e Ultra Healing Body Lotion- For Extra Dry skin Review
Hi All 🙂
Who needs body lotion?
I do. We all do Okay
Whether you have normal, oily or dry ( Dry skin will itself scream for body lotion, thats another story)
So why all the intro?
For this TBC Natural Vitamin-e Ultra Healing Body Lotion- For Extra Dry skin 😛 
Lets move onto the review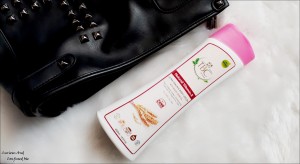 Price– INR 265 for 500
About- Body Lotion is botanically rich, non-greasy daily lotion delivers deep, long-lasting hydration. Wheat Germ Oil, high in Vitamin E, combines with Vitamins A, B5 & C to help replenish lost moisture and minimize the appearance of fine lines and wrinkles. Avocado Oil, high in essential fatty acids, helps restore elasticity and
resilience. With use, skin is softer, smoother and more youthful looking.
Ingredients: 
My experience with TBC Natural Vitamin-e Ultra Healing Body Lotion:
The one I have is a 500ml bottle and it's huge with the pink cap. The bottle is made out of plastic, feels sturdy but the cap does not. Travelling with this is not a good idea.The body lotion has runny liquidy consistency and it's white in colour. It has a pleasant scent to it, which hits your nose while pouring it out from the bottle and while applying it on the skin. It lingers for very less time.
Once you rub the lotion on the skin it sinks in very quickly. Since it is meant for extra dry skin, I thought it might be little heavy but it is not. Its sinks in right away giving a healthy look to skin. Even on normal skin it works nicely during the winters. I honestly thought it is just another moisturizer but I was wrong. I am not saying this because it was sent to me, I am saying this because it is really moisturizing and it's hydrating for long hours. Once applied in the morning I reapply it only in the night before hitting the bed. I am not really sure what they mean by healing, but my sahara dry feet don't cry for body lotion after the bath or at the end of the day, maybe it is that. Yup, It's that good.
It comes with SPF 15 which is again a good thing. Though in bottle it is mentioned that it paraben free , it is not. It has paraben and paraffin oil in the ingredient list. So if you don't like a body lotion which has these 2, it's not for you.
Pros:
Affordable, Non greasy formula, pleasant scent, sinks in very quickly, moisturizes an hydrates the skin very nicely, has SPF 15.
Cons:
Has parabens
Last words:
I am enjoying this body lotion to core. I don't need re-apply the body lotion for feet which is a great thing, as that means I don't have to carry body lotion with me now 😛 . TBC Natural Vitamin-e Ultra Healing Body Lotion got be one of the most affordable option in the body lotion right now which moisturizes/hydrates the skin for an entire day.
If you are into natural paraben free formula skip this. If you don't care about that do check this out
Have you tried this before? Which is your current body lotion?
Live Life To The Fullest
XOXO
SB
*PR sample 
---
---