Lakme Enrich Matte Lipstick in RM 12 : Review, swatch, LOTD
Hello cupcakes 🙂
Lakme is a well known brand of India, which released Enrich Matte Lipsticks in 20 shades consisting of Reds, Wines, Oranges, Pinks and Brown last month.
I don't know why but I was not too keen on hunting one and would have bought it may be later . But a readers request made me get one. I mean 300 buck does not hurt
right.
I bought it blindly online, from Jabong. Let's get into the review.
Price: 295 INR for 4.7g
My Experience with Lakme RM 12 Enrich Matte Lipstick:
Packaging: Just like the satin versions they come in silver tube, only difference is that the matte ones have matte finish. The cap is transparent. Shade number is at the bottom, why numbers :/
Shade and pigmentation: RM 12 is beautiful Deep Red Maroon. It has the right amount of Red and maroons in it which instantly brightens up the face. This shade will suit everybody specially Medium-Dusky-Deeper skin tones. One of those shades which will go wonderfully with the ethnic outfits and for winter season. I personally will wear it any day, anytime of the year, as I don't associate shades with weather/nigh time/daytime 🙂 The pigmentation is okay, falls between opaque and sheer. If you have pigmented lips like mine you would need about 2 swipes.
Texture and Scent : The texture is silicony. It glided smoothly on lips and did not tug even on the first usage. It has the sweet syrupy scent, it's quite common with all the enrich lipstick be it matte or satin.
Performance: As I mentioned it glided smoothly on the lips giving a velvety matte finish with the sheen. Which I love. It's not that powder matte, out and out matte type. On the whole lipstick stays for about 4-5 hours, which is good for the price it comes in. Also it faded evenly, even after I sipped onto something it did fade a little, but it was even. After the lunch the lipstick went off completely leaving behind a faint Red tint. The formula isn't hydrating. It's not drying at first, but after about 3 hours, the dryness starts to sink in. Also it left the lips dry at the end of the wear time. One must exfoliate the lips and moisturize them well. Also after about 2 hours, it became a little crumbly. Doesnot bleed or smudge around and transfers a little.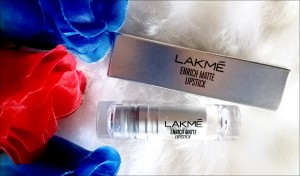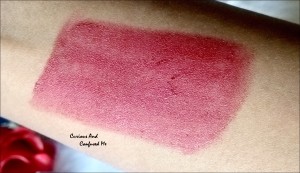 Pros :
Gorgeous Red Maroon Shade, Affordable, 4-5 staying power, leaves behind a tint, practical sturdy packaging, Buildable colour, Does not tug
Cons:
Left lips dry, Not a true matte ( Has a sheen, I love it), Sweet scent, Does not survive meal, Becomes a little crumbly, Needs prepping of lips
Last words:
I loved the shade and I am okay with the formula.  But there is a lot of inconsistency within the range. I was watching Titi's corner swatch video, she has mentioned the texture and lip swatches of each Shade. So it's not a range, where you can read one review and go for bunch of shades. If you want
to go for one, make sure you check the reviews before. If you are looking for matte lipsticks at 300-350 range you can go for Colorbar velvet matte which has good matte formula
and has about 40 shades with names 😛 
Has this range excited you? Are you planning to buy one?
Live Life to the Fullest
XOXO
SB
---
---