Colourpop Ultra Matte Liquid Lipstick in Tulle: Review, swatch
Hello All 🙂
Price: $6
I paid 700 for this. You can buy these from Instastores . Rates Usually varies from Store to store. Some of the stores are here: beautytales.in, shopyouraddiction,lachickwick.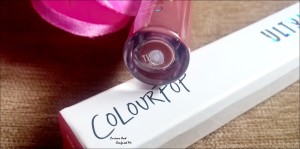 If the first impression was everything then I would not be reviewing Colourpop Ultra Matte Liquid Lipstick Tulle, would not have worn this or would not have loved this unique shade. I remember the rants I did with 2- 3 friends including my blogger friend Anubhuti of Sense it eve, that it does not suit me, picked up the wrong shade and all. And then I gave a second chance to it.
I am not gonna go deep into the review of this as I find the performance of this as same as the Colourpop Ultra matte More better which I reviewed before. The liquid lipsticks have liquidy consistency, which spreads easily. One stroke is all you need on lips as these are pigmented to the core and ends up giving matte finish. Decking of the lips is required and on the whole these stay about 7+ hours. This lipstick doesn't crack on the lips and they are 90% transferproof .
The shade Tulle is a Brown mixed with Maroon. It is flattering on Fair –medium. On the initial application though it sucked the life out of my dusky face, since these have a tendency of oxidizing, it becomes bit darker and ends up looking great. But my favorite way of wearing this is mixing this any of the Red tint lipbalms. By this way it does not give a matte finish. But if have been a reader of my blog , you might know that I love my creamy liquid lipsticks so it works for me. Gives me that Brown not that in the face shade with good hints of Red.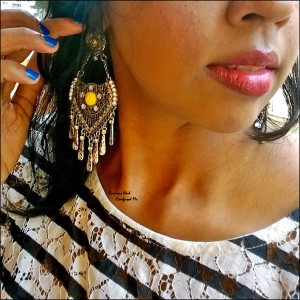 Pros:
Affordable, Long lasting, great unique shade, Great pigmentation, transferproof, Doesnot crack on the lips 
Cons
Little drying over the time, Needs prepping of the lips.
Last words
Try one to know what these are. I know we have shell out a little more extra to get hold of these in India but still these are worth a try.
Have you tried these? Do you have any product from Colourpop ?
Live LIfe To The Fullest
XOXO
SB
---
---