Maybelline Color Sensational Vivid Matte Liquid Lip Color : Review, swatch, LOTD
Hello All 🙂
This was part of US drugstore haul I did a while back, here is the review of it 🙂
Price: $7, prices vary from store to store.
Product Description: Lip color glides on smooth to a matte finish. Infused with pure pigments for high-impact color. Creamy liquid base for a soft, cushiony feel. Why you'll Love It: Drench your lips in Vivid Matte. Bold, vivid color glides easily onto lips for a velvety matte finish. Formula is comfortable and creamy with a smooth feel upon
application. Available in 10 vibrant, matte shades.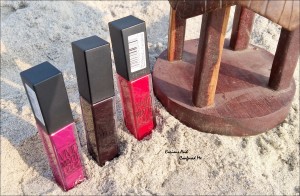 My Experience with Maybelline Color Sensational Vivid Matte Liquid Lip Color:
Maybelline Color Sensational Vivid Matte Liquid Lip Colors comes in a plastic rectangular tube, which is transparent and has a matte cap. The doe foot applicator has sponge and it's long. The Liquid Lip Colors has scent to them, that typical old school scent. I dislike it. Goes away but I dislike it.
The formula is smooth, creamy, liquidy. They are comfortable throughout the wear, since they are liquid lipcream they don't really dry out the lips. The Liquid Lip Colours are pigmented to the core, one swipe and they cover pigmentation easily. These never set into the matte, they transfer and stay for about 4-5 hours. All of them leave a lovely stain behind. If you do the apply- blot-apply-blot technique it leaves a matte strong colored lips behind.
The colors I have:
Berry boost : Mix of Berry and Magenta shade. The normal but gorgeous shade, there is much berry about this.
Rebel Red: Bright Red looks like tomato Red at times, indeed rebellious. This red is present in every collection of MNY lipstick.
Possessed plum : Deep eggplant berry shade with purple/blue undertone. On its own it almost looks like black lipstick (love), when spreaded looks like a deep plum shade.
Apart from Possessed plum both the shade go smoothly, even after the layering. Possessed plum is little streaky on the application. I usually use a lipbrush to apply this, helps in toning down the intensity as well. It looks lovely; my choice of picking this up was applauded by my parents and near dear ones. Surprised eh? Bonus: I can vamp up any lipshade using this.
If we got Velvet matte in place of the Vivid mattes, the difference:
The Vivid matte drank health drink and grew taller. The scent of these vivid's have is stupid it bothers me, whereas the velvet mattes dont have any scent to them. I like the applicator of the velvet mattes , which is heart shaped as compared to the these long ones. The pigmentation is better . The rest everything is same, quality staying power. Same!!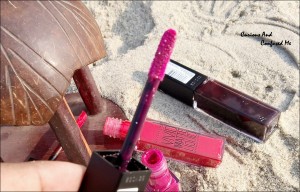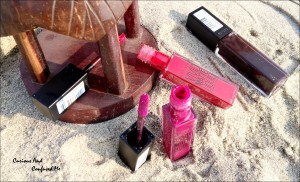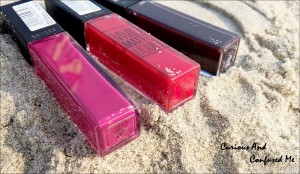 I have mentioned previously that I love liquid lipcream, I loved these. I have matte 6 from the velvet matte ( Review here )  already so I think I have enough of these from either range. The Red, Berry shades are normal, but this range has extreme shades like the one I have other is purple and some lovely n*des, I am not fond of light shades of I dint pick them, but they are gorgeous.
Recommendation: If you get a chance, pick a color which is not available here. Either go for fun shade or the n*de everyday shade as I find the Red and Pinks normal. These are liquid lipcream, with 4-5 staying power, good pigmentation and dont dry out the lips, only con: Not really matte, never really sets into matte (ThankGod) !!
What do you think about these? Have you tried these? Have you tried velvett matte?
Live Life To The fullest
XOXO
SB
---
---