Votre Face Serum : Review, swatch
Hi All 🙂
VOTRE is India's patented Bio-Cosmetic brand that offers 100% botanical, vegan & cruelty free products. I got this serum in January Fabbag 2016 and now I have used it up. So here I am sharing my experience.
Votre Face Serum : What is it: This Aqua rich revitalizing (PM) serum enriched with virgin cold pressed oils, Herbal blends & innovative Molecules! Which helps to brighten the complexion and reduce fine lines. All VOTRE products are clinically tested, Dermatological approved & 100% effective & safe!
Price : Rs.1670/- for 12 ml
Shelf life : 18 months
My Experience with Votre Face Serum:
Votre Face Serum comes in a opaque black glass bottle packaging, which has a dropper. With the Just herbs Elxir many people said that the dropper was not working properly, mine did but I would like to mention that after using this, I feel this is how the dropper should work. It is much more efficient. It dispenses the product efficiently and works how our normal Ink bottle dropper would work.
The serum is white in colour and it is watery. It does have a scent which I cannot relate to anything. But the shade and the scent reminds me of litchi juice :D. Does not linger much, you get a whiff and it's gone. Poof!!
The Texture of the serum is extremely light weight; hence it sinks into skin right away without any sticky greasy feel. I require about 2 drops, more than that feels watery while applying but not sticky, then it sinks in.
Performance: Now to begin with my skin was in better shape because of Just Herbs Rejuvenating Beauty ELIXIR Facial Serum, so I think this was under the huge pressure to maintain that thing. And it managed fine. After the application there is a instant glow on the face, along with that the glow is maintained and brightness continues. Skin is happy and plump.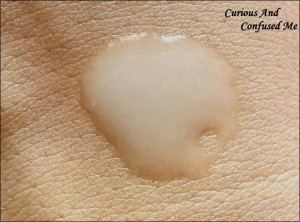 I have oily skin; it worked fine and no breakouts. Does not aggravate if there is any as well. So this should work for all skin types out there. This did brightened my face and gave glow.
The price and the glass packaging are the cons.
Wrinkles, fine lines?? No idea about that.
Now it maintains the skin but does it repair?? No idea again.
I wont repurchase this!! It's a little pricey!!
However, it's good and I happy how it worked on my skin. If you don't mind the price, do check this out.
Have you tried this? Are you happy with this? Do you think this is overpriced?
Live Live To The Fullest
XOXO
SB
---
---