Soulflower Jasmine Soap : Review
Hi All 🙂
Soulflower soaps are hit in my home, at any given point atleast two Soulflower soaps will be in my home. But reason being the first soap to be reviwed from the Soulflower is that, I found only this to be in shape =)) The rest are in some cubes, triangle & weird shapes. So lets get onto the review of the one which is in one piece.
Price: 200INR for 150gms ( I think I got this for 30% off )
Ingridients: Jasmine essential oil, fresh jasmine flowers, Vitamin E, glycerin, aqua, olive, rice bran, coconut, castor & palm oil.
What Soulflower says about the soap:
The jasmine flower is known for its alluring aphrodisiac aroma. This soap improves skin elasticity, helping to reduce visibility of scars & stretch marks. It leaves your skin gently cleansed & lightly perfumed as you leave the bath. Use to reduce greasy skin, while soothing dry, sensitive & irritated skin."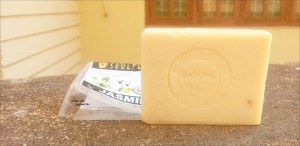 My Experience with Soulflower Jasmine Soap: 
Soulflower Jasmine Soap has a straight business type packaging. A neat soap bar wrapped in plastic wrapper and wrapper has all the information about the soap. A soap bar is white in shade, looks like a cheese bar, only this is better 😉 The fragrance it has is of fresh and natural jasmine scent, to be precise Jasmine scent from the North part of Karnataka.
So these soaps perform how a good soap would perform; lathers well; washed off easily ; does not dry out the normal skin. Fragrance does not linger, they are with you when you take bath. But the soap does make the bathroom smell wonderful just like the Patanjali soaps. Since the soaps are preservative free, they do melt, so just cut them in pieces and use it.
I have used most of the soaps from this brand, so I can say this in general: The Body soaps are good. The face wash soaps were good but they dried the face. The shampoo soap bars got stuck in the hair and we needed a shampoo to wash it off.
 Why these are hit and why I recommend it: When I wanted natural/organic soaps for my Mum around 3 years ago I narrowed it down to Soulflower as these Does not contain artificial hardeners & preservatives and they are 100% vegan. The experience have been excellent. Never caused any irritation to skin, to hands, did not cause any allergy making it perfect for sensitive skin. I have been trying some other brands as well, but Soulflower soaps will always be around. I don't care about claims of the soap neither does Mum. What a soap can do?? All I care about how vegan and preservative free it is and it works fantastic. If you care only about that too, do check this out.
What do you think about this? Which is favorite bath product at the moment?
Live life to the fullest
XOXO
SB 
---
---