Nivea Fruity Lip Care Strawberry Review
Hi All 🙂
I shouted at the top of my lungs (Which is not very loud by the way) "No no that only I want", when the shopkeeper showed me how amazing entire tinted collection of  the Nivea lipbalm is . I mean they are but I wanted Nivea Fruity Lip Care Strawberry specifically…phew. Now that I have it, I'll tell you all why you need it.
Price: 45INR ( Under $1) for 10 ml.
There are two variants: This and other comes in blue body. Why I dint pick both?? Mystery to me as well.
My Experience with Nivea Fruity Lip Care Strawberry:
Now this lipbalm is not the fanciest one around. Simple white body, blue cap and slanted tip. Lipbalm is nonsticky, thick and transparent with the hint of strawberry scent. Goes away as soon as you get the whiff.
When you apply this softest lipbalm on the lips it sits on them, not like giving white cast and bla. It just sits there, then if you massage it, it moisturizes and hydrates the lips. There isn't any sticky feel on the lips either.
My lips aren't dry or chapped anymore, also no signs of dry skin/flakes on the lips. Lips at any time is smooth, it's hydrated. These days I have been totally skipping the exfoliation drill before applying a matte lipstick. Now that's something. Reapplication, as per your lips requirement.
Also, I did expriment on a freind, applied a thick layer of this balm left it for about 10 mins and wiped it off, she was left with smooth exfoliated lips and a complain that why dint I get one for her 😀
Very rarely lipbalms survive, forget survive, very rarely I wake up with the hydrated lips in the morning because none of them seem to survive the night, but this does.  Con: Availability, not seen this around much, but local shops it's there and no SPF ( ideal for nighttime).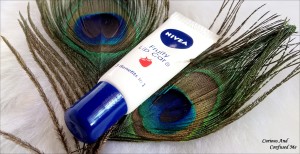 I will get a backup of this and the other variant soon. It moisturizes, it hydrates, it takes care of the dry flakes on the lips and it costs 45INR. Dry skin/flakes/peels on the lips what's that?
You need this in Life
Run and get one.
Have you tried this? Have you spotted this around?
Live Life to the fullest
XOXO
SB
PS: Not been paid to advertise.
PPS: But I think they should have 😛
---
---